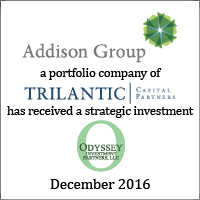 William Blair acted as the exclusive financial advisor to Addison Group, a leading national provider of professional staffing and direct hire services in IT, Non-Clinical Healthcare, Financial & Accounting, and HR & Admin, in connection with its investment from Odyssey Investment Partners, previously owned by Trilantic Capital Partners. The transaction closed on December 29, 2016. The sale of Addison Group builds on William Blair's expertise in advising staffing and human resources services companies, and represents the third successful transaction for Addison Group, having advised the company in 2006 and 2013, as well.
Transaction Highlights
Deep sector knowledge and positioning expertise: William Blair's extensive knowledge and experience in HR services and staffing, along with the firm's strong relationships with strategic and financial buyers, were key considerations in Addison Group engaging William Blair. Thoughtfully positioning the company's differentiated business model and proven professional platform suited for continued growth was critical in driving value. William Blair worked with Addison to successfully position the company's strong investment merits and growth opportunity.
Process and execution excellence: William Blair has a proven ability to deliver strong outcomes by coordinating a thoughtful and highly competitive process. The Addison deal team was integrally involved in each step of the transaction process, including communicating with potential investors, developing compelling marketing materials, and negotiating key contract terms. Furthermore, the high-touch, fireside-chat-driven approach to engage potential investors early resulted in a high conversion of interest. In addition, investor feedback from the Private Equity Conference in 2015 developed unique insights that enabled the deal team to gauge interest levels, position the company to maximize value, and mitigate potential concerns.
Trusted guidance: William Blair has a long-standing, trusted relationship with Addison Group and Trilantic. William Blair previously advised Addison on its 2006 strategic investment from Lake Capital as well as its 2013 partnership with Trilantic.
About the Companies
Addison Group is a leading provider of professional staffing and search services. Addison Group combines a national network and localized service for broad reach with a personal touch. The company's specialized practices deliver the right candidate at the right time in information technology, finance and accounting, healthcare, executive search, HR and administrative, and engineering. Addison Group has received Inavero's Best of Staffing for the past six years.
Odyssey Investment Partners, LLC, with offices in New York and Los Angeles, is a leading private equity investment firm with more than a 20-year history of partnering with skilled managers to transform middle-market companies into more efficient and diversified business with strong growth profiles. Odyssey makes majority controlled investments in industries with a long-term positive outlook and favorable secular trends.
Trilantic Capital Management L.P. ("Trilantic North America") is a private equity firm focused on control and significant minority investments in North America. Trilantic North America's primary investment focus is in the business services, consumer, energy, and financial services sectors. Trilantic North America currently manages four private equity fund families with aggregate capital commitments of $5.9 billion.