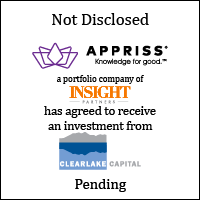 William Blair acted as lead financial advisor to Appriss Holdings, Inc. (Appriss), a portfolio company of Insight Partners (Insight), in connection with its pending investment from Clearlake Capital Group, L.P. together with its affiliates (Clearlake). The transaction was announced on April 9, 2019.
Transaction Highlights
Unmatched industry knowledge, relationships, and experience: Appriss and Insight recognized William Blair's extensive domain expertise, buyer relationships, and track record of advising industry-leading companies, including highly relevant transaction experience serving data and analytics businesses. William Blair was able to provide tailored guidance on strategic positioning for a unique business serving numerous end-markets.
Extensive technology M&A expertise: William Blair leveraged proven leadership in current technology M&A process design to structure and manage a highly competitive, customized process for Appriss that elicited strong engagement from an impressive group of potential financial and strategic buyers.
Trusted guidance: William Blair has maintained a long-standing, trusted relationship with Appriss and the transaction team was integrally involved throughout each step of the process, including close collaboration with Appriss in developing marketing materials, coordinating due diligence with multiple parties, and negotiating key contract terms.
About the Companies
Appriss is a leading provider of data and analytics solutions that deliver Knowledge for Good. Its customers include public and private enterprises who are focused on public safety, fraud prevention, and substance abuse. Its integrated workflow solutions serve thousands of government and law enforcement, healthcare providers, and large commercial enterprises across the globe. Appriss plays a key role in keeping people safe, helping to identify criminal activity, and providing critical healthcare related insights to prevent and manage substance abuse.
Clearlake is a leading private investment firm founded in 2006. With a sector-focused approach, the firm seeks to partner with world-class management teams by providing patient, long-term capital to dynamic businesses that can benefit from Clearlake's operational improvement approach, O.P.S.®. The firm's core target sectors are software and technology-enabled services; industrials and energy; and consumer. Clearlake has managed over $8 billion of institutional capital since inception and its senior investment principals have led or co-led over 100 investments.
Insight Partners is a leading global venture capital and private equity firm investing in high-growth technology and software companies that are driving transformative change in their industries. Founded in 1995, Insight currently has over $20 billion of assets under management and has cumulatively invested in more than 300 companies worldwide. Its mission is to find, fund and work successfully with visionary executives, providing them with practical, hands-on growth expertise to foster long-term success. Across its people and portfolio, Insight encourages a culture around a core belief: growth equals opportunity.
Learn more about our technology investment banking expertise.