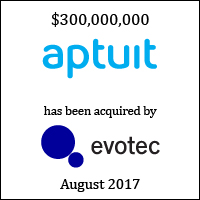 William Blair acted as financial advisor to Aptuit, a portfolio company of Welsh, Carson, Anderson & Stowe (WCAS), in connection with its sale to Evotec AG (XTRA:EVT). The transaction closed on August 11, 2017.
Transaction Highlights
Deep sector expertise: Aptuit was attracted to William Blair's extensive knowledge of the outsourced pharmaceutical space, significant transaction experience with other pharma services companies, and strong relationships with potential buyers.
Process and execution excellence: William Blair designed and executed a highly competitive sale process with outreach to a global audience of highly interested strategic buyers. This process drove a strong competitive dynamic, yielding an outstanding outcome and finding the right partner at a premium multiple for Aptuit.
Trusted guidance: William Blair's transaction team was deeply involved in each step of the transaction process, including close collaboration with Aptuit in developing marketing materials, coordinating due diligence with multiple parties, and negotiating key contract terms.
About the Companies
Aptuit is a premier partner research organization serving over 400 of the world's leading biopharmaceutical companies. The company provides a unique mix of fully integrated services including drug discovery, IND phase, and CMC that drive significant cost savings, accelerate timelines, and provide outstanding scientific outcomes for customers. Aptuit has operating sites in Verona, Italy; Oxford, U.K.; and Basel, Switzerland.
Evotec is a drug discovery alliance and development partnership company focused on rapidly progressing innovative product approaches with leading pharmaceutical and biotechnology companies, academics, patient advocacy groups, and venture capitalists. It operates worldwide, providing the highest quality stand-alone and integrated drug discovery solutions, covering all activities from target-to-clinic to meet the industry's need for innovation and efficiency in drug discovery (EVT Execute). The company has established a unique position by assembling top-class scientific experts and integrating state-of-the-art technologies as well as substantial experience and expertise in key therapeutic areas including neuroscience, diabetes and complications of diabetes, pain and inflammation, oncology, and infectious diseases. On this basis, Evotec has built a broad and deep pipeline of more than 70 partnered product opportunities at clinical, preclinical, and discovery stages (EVT Innovate). Evotec was founded in 1993 and is based in Hamburg, Germany.
WCAS focuses its investment activity in two target industries: technology and healthcare. Since its founding in 1979, WCAS has organized 16 limited partnerships with total capital of over $22 billion. WCAS has a current portfolio of approximately 25 companies with 2016 annual revenues totaling $15 billion. WCAS's strategy is to partner with outstanding management teams and build value for its investors through a combination of operational improvements, internal growth initiatives, and strategic acquisitions. The firm is currently investing an equity fund, Welsh, Carson, Anderson and Stowe XII, L.P., which closed on over $3.3 billion in commitments.
Learn more about our healthcare investment banking expertise