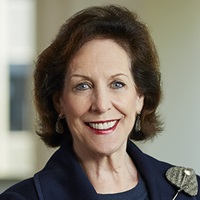 William Blair's Louise Lane was named by Forbes magazine to its 2018 America's Top Wealth Advisors List this week.
The annual rankings include 250 top advisors who manage more than $733 billion in client assets. This was the first time a William Blair advisor has been included in the rankings.
The rankings are based on a variety of factors including assets under management, industry experience, best practices and approach to working with clients.
"This honor highlights the financial expertise and personal service William Blair advisors provide our clients," said Ryan DeVore, global head of William Blair's private wealth management. "Their dedication to high-quality, customized client advice is the hallmark of William Blair private wealth management services. Congratulations to Louise and her team on this wonderful achievement."
Lane and her team serves high-net-worth individuals and families, organizations and foundations to achieve their investment goals, strengthen family legacies, and endow their clients' charitable activities.
Lane is a partner of the firm and has an average tenure of 36 years in the financial industry and 30 years at William Blair.
Forbes Top Wealth Advisors List