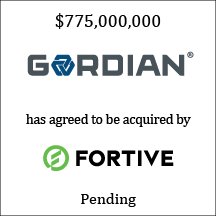 William Blair acted as the exclusive financial advisor to Gordian, a portfolio company of Warburg Pincus, in connection with its pending sale to Fortive (NYSE: FTV). The transaction was announced on July 2, 2018, and is expected to close during the third quarter of 2018, subject to regulatory approval. The pending sale of Gordian represents the third construction software platform that William Blair has sold to a strategic buyer in 2018, totaling $2.5 billion in total transaction value.
Transaction Highlights
Trusted guidance and deep sector expertise: Gordian and Warburg Pincus were attracted to William Blair's extensive knowledge and industry experience within the construction and facility management sectors, as well as William Blair's expertise positioning vertical software and data-driven business models.
Unmatched buyer relationships, access, and insights: William Blair's highly relevant and recent transaction experience with the most aggressive strategic and financial acquirers enabled William Blair to provide insightful intelligence, skilled M&A process strategy, and a deep understanding of buyer priorities.
Process and execution excellence: William Blair constructed and managed a highly competitive and efficient process, leveraging strong familiarity with the business and the industry to position Gordian as a one-of-a-kind asset.
About the Companies
Gordian, based in Greenville, South Carolina, is the leading provider of construction data, software, and expertise to institutional owners and construction professionals across the entire building lifecycle. Gordian's customers rely extensively on the company's vast collection of construction cost data, mission-critical software, and unmatched expertise to create accurate plans, estimates and budgets, optimize contracting, and analyze and benchmark facility performance. Since originating industry-shaping solutions within procurement, the company has expanded its offerings across all stages of the building lifecycle to include planning, design, construction, and operations.
Warburg Pincus LLC is a leading global private equity firm focused on growth investing. The firm has more than $45 billion in private equity assets under management. The firm's active portfolio of more than 165 companies is highly diversified by stage, sector and geography. Warburg Pincus is an experienced partner to management teams seeking to build durable companies with sustainable value. Founded in 1966, Warburg Pincus has raised 17 private equity funds which have invested more than $68 billion in over 820 companies in more than 40 countries.
Fortive is a diversified industrial growth company composed of Professional Instrumentation and Industrial Technologies businesses that are recognized leaders in attractive markets. Fortive was spun off from Danaher Corporation in July 2016. With 2017 revenues of $6.7 billion, Fortive's well-known brands hold leading positions in field instrumentation, transportation, sensing, product realization, automation and specialty, and franchise distribution. Fortive is based in Everett, Washington, and employs a team of more than 26,000 research and development, manufacturing, sales, distribution, service, and administrative employees in more than 50 countries around the world.
Learn more about our technology investment banking expertise.