By helping a record number of clients navigate 2017's hyper-competitive dealmaking landscape, William Blair is honored to be named "Investment Bank of the Year" by Mergers & Acquisitions magazine. Against a backdrop of flat M&A activity globally, William Blair completed 22% more transactions totaling 75% more in terms of deal value on behalf of our clients in 2017 than in 2016.
"I am most proud of how our global William Blair team collaborates and believes in each other," said Brent Gledhill, William Blair's global head of investment banking. "Our success in 2017 can be attributed to combining all of our individual talents, perspectives, ideas, and contributions to produce the best year William Blair has ever delivered for both our clients and each other."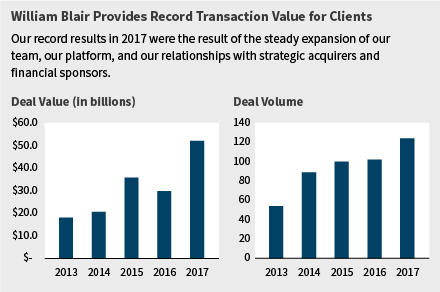 Dealogic's and Mergermarket's 2017 league tables both reflect William Blair's preeminence in private-equity-related and sector transactions:
No. 1 advisor with private equity involvement in U.S. transactions under $2 billion in value (Dealogic)
No. 1 global advisor in buyouts and exits (Mergermarket)
No. 1 global advisor to technology companies in transactions under $2 billion in value (Dealogic)
No. 1 global advisor to healthcare companies in sell-side transactions under $2 billion in value (Dealogic)
No. 1 global sell-side advisor in consumer and retail transactions under $5 billion in value (Dealogic)
Investing in Growth
In addition to being a standout year, 2017 was another step forward in William Blair's strategic growth plan to capitalize on the continuing investments in the firm's teams and technology:
Organic team growth: The firm continues to be a tremendous platform for many of the world's most accomplished banking professionals to join. Our banker ranks have grown by more than 60% since 2013, helping ensure a healthy pipeline of next-generation talent.
Expanded global reach: With more than 15 offices around the world, our expanding presence in Europe and Asia has been critical to clearing the market globally for clients. Since 2013, more than 33% of our transactions have been cross-border.
Enhanced capital markets capabilities: We significantly expanded our debt capital markets capabilities, complementing our already robust M&A and equity capital markets platform.
New headquarters: We moved into our new North American headquarters in Chicago in June 2017. The state-of-the-art facilities will serve as an ideal home for the firm's continued growth.
Providing World-Class Service
We are committed to investing in the talent, passion, and tenacity of our people and focusing on our clients' success. We invite you to learn more about how we turn these values into industry-leading results for our clients.