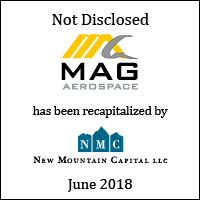 William Blair acted as the lead financial advisor to MAG Aerospace, owned by management and Clairvest Group, in connection with its partnering with New Mountain Capital. The transaction closed on June 6, 2018.
Transaction Highlights
Deep sector knowledge: William Blair leveraged its deep sector expertise to advise MAG on a successful outcome; William Blair's aerospace and defense team has advised on 10 M&A transactions in the past 24 months.
Successful positioning: William Blair articulated MAG's exceptional organic growth, strength of its management team, asset-light business model, contract diversification and highly differentiated technical capabilities and service offering (employee base with exceptional processing exploitation and dissemination of data analysis capabilities and a balanced mixture of technical, tactical, and intelligence expertise).
About the Companies
MAG Aerospace, based in Fairfax, Virginia, is a leader in providing and enabling real-time situational awareness to help its customers to make the world smaller and safer. MAG delivers manned and unmanned full-spectrum ISR Services (training, operations, UAS services, sensor services and intelligence support) and other specialty aviation services to federal, international, civilian, and commercial customers around the world. In 2017, the company's 1,000 plus professionals operated over 200 manned and unmanned special mission aircraft during approximately 100,000 flight hours on six continents in support of their customers' missions.
New Mountain Capital is a New York–based investment firm that emphasizes business building and non-cyclical growth, rather than debt, as it pursues long-term capital appreciation. The firm currently manages private equity, public equity, and credit funds with over $20 billion in assets under management. New Mountain seeks out what it believes to be the highest-quality growth leaders in carefully selected industry sectors and then works intensively with management to build the value of these companies.
Clairvest Group Inc. is a leading middle-market private equity firm that manages over $1.7 billion in equity capital. It invests its own capital and that of third parties through the Clairvest Equity Partners limited partnerships, in businesses that have the potential to generate superior returns. Clairvest's core business is partnering with and investing alongside owner operators, often through a minority investment, to grow midsize businesses into market leaders within their respective industry niches. In addition to providing financing, Clairvest contributes strategic expertise and execution ability to support the growth and development of its investee partners.