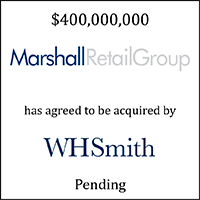 William Blair acted as financial advisor to Marshall Retail Group (MRG), a portfolio company of Brentwood Associates, in connection with its pending acquisition by WH Smith PLC (WH Smith). The acquisition is expected to close by Q1 2020.
Transaction Highlights
Sector expertise: MRG and Brentwood Associates were attracted to William Blair's extensive knowledge and experience in the travel retail sector, strong relationships with, and access to, strategic buyers, as well as the team's ability to execute a strategic deal with a publicly-listed international buyer.
Trusted guidance: William Blair was integrally involved in engaging strategic parties and financial sponsors, closely collaborating with management and Brentwood Associates in articulating MRG's story, and providing potential buyers with key, value-driven, due diligence analyses.
Execution excellence leads to premium valuation: William Blair's team engaged in a broad auction process with strategic parties and financial sponsors, which drove an exceptional outcome for MRG and Brentwood Associates.
About the Companies
Founded in 1955, MRG is a leading specialty retailer offering a broad range of concepts for high-foot-traffic marketplaces. MRG provides turnkey solutions to airport and premier hotel resort operators by creating and managing a highly scalable platform of stores. The company currently operates more than 170 locations across the United States, with 70 of those locations operating inside airports.
Brentwood Associates is a leading middle-market private equity investment firm with over 30 yearsof investing in leading growth companies. Brentwood focuses on investments in growing businesses where it can leverage its extensive experience in areas such as: consumer products and services; multi-location growth strategies, including specialty retail and restaurants; direct marketing, including direct mail and e-commerce; health and wellness; education; and business services. Since 1984, Brentwood's dedicated private equity team has invested in over 50 portfolio companies with an aggregate transaction value of over $6 billion.
WH Smith is listed on the London Stock Exchange (LSE: SMWH) and is a constituent of the FTSE 250 Index. The group is a leading global retailer in news, books, and convenience for the world's travelling customer. With approximately 1,600 stores in locations across the globe, WH Smith offers customers a wide range of books, newspapers & magazines, travel accessories, and food & drink.
Learn more about our consumer and retail investment banking expertise.