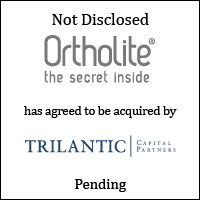 William Blair acted as the exclusive financial advisor to OrthoLite, a portfolio company of Blue Point Capital, in connection with its pending sale to Trilantic North America. The transaction is expected to close in early August and builds on William Blair's M&A franchise within branded consumer products. This transaction represents William Blair's ninth consumer products transaction in the last 12 months.
Transaction Highlights
Deep relationships and industry expertise: Blue Point Capital and OrthoLite were attracted to William Blair's extensive knowledge and experience in branded consumer products, ability to articulate compelling growth stories to investors and strong relationships with likely financial acquirers worldwide.
Execution excellence leads to premium valuation: William Blair's team managed a highly competitive, sponsor-focused process, driving an exceptional outcome for OrthoLite, management, and Blue Point Capital.
Multi-Step, Advisory Services: William Blair first led an institutional debt financing in October 2016 to properly position OrthoLite's story and introduce the company to the institutional debt market. This built strong credit interest for the M&A process.
Trusted guidance: William Blair's deal team was integrally involved in each step of the process and guided Blue Point Capital and the management team to a successful transaction outcome.
About the Companies
OrthoLite, founded in 1997, is the category creator and fastest-growing designer and innovator of branded open-cell foam technology, serving branded footwear companies within the large and growing, $225 billion global footwear industry. The company's continuous innovation, coupled with its portfolio of 250+ proprietary chemical formulations, has revolutionized the footwear industry, providing brand partners differentiation while offering consumers superior comfort and enhanced performance.
Blue Point Capital Partners is a private equity firm managing over $825 million in committed capital. With offices in Cleveland, Ohio; Charlotte, North Carolina; Seattle; and Shanghai, Blue Point's geographical footprint allows it to establish relationships with local and regional entrepreneurs and advisors, while providing the resources of an international firm. Blue Point has a 26-year track record of partnering with companies in the lower middle-market to facilitate growth and transformative change. It is one of only a few middle-market private equity firms with a presence in both the United States and China, which provides a distinct advantage for its portfolio companies.
Trilantic North America is a private equity firm focused on control and significant minority investments in North America. Trilantic's primary investment focus is in the consumer, business services, energy, and financial services sectors. Trilantic North America currently manages four private equity fund families with aggregate capital commitments of $5.9 billion.