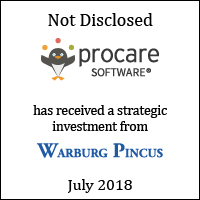 William Blair acted as the exclusive financial advisor to Procare Software, a portfolio company of TA Associates, in connection with its strategic investment from Warburg Pincus. The investment closed on July 31, 2018. Simultaneous with the investment, Procare signed a definitive agreement to acquire Cirrus Group, a leading online SaaS provider of dynamic operational, financial, and customer management solutions for childcare centers, school districts, and community education centers.
Transaction Highlights
Sector expertise: Procare Software and TA Associates were attracted to William Blair's extensive knowledge and experience in the financial technology and software sectors and how payments and software blend to create a distinct competitive advantage. Procare also recognized William Blair's extensive transaction experience in the integrated payments market, understanding and appreciation for software-led payment distribution models, expertise in advising vertical software companies, and strong relationships with potential strategic and financial acquirers for Procare.
Execution excellence: William Blair was integrally involved in each step of this transaction, closely collaborating with management and TA in articulating Procare's story to the marketplace, developing effective and insightful marketing materials, and undertaking extensive up-front diligence preparation. With thorough preparation, William Blair was able to conduct a highly competitive process in a tight timeline that drove an exceptional outcome for Procare and its shareholders.
Trusted guidance: William Blair's hands-on involvement and effective communication, along with industry insight, intelligence on potential acquirers, and M&A process tactics, enabled the transaction team to serve as a trusted partner to Procare and TA Associates.
About the Companies
Procare is a global leader in integrated child care management technology solutions, offering a combination of business management software, integrated tuition payment processing, parent engagement tools, hardware, and data hosting. The company supports more than 30,000 preschools, daycare centers, after-school programs, camps, and related facilities with a broad product suite that serves the complex and unique demands of the child care market. Procare is a true end-to-end solution that supports customers of all sizes, from single-center operations to complex international enterprises.
TA Associates is a leading global growth private equity firm. Focused on five target industries – technology, healthcare, financial services, consumer, and business services – TA invests in profitable, growing companies with opportunities for sustained growth, and has invested in nearly 500 companies around the world. Investing as either a majority or minority investor, TA employs a long-term approach, utilizing its strategic resources to help management teams build lasting value in growth companies. TA has raised $24 billion in capital since its founding in 1968, and has more than 85 investment professionals based in Boston, Menlo Park, London, Mumbai and Hong Kong.
Warburg Pincus is a global private equity growth investor with offices in the Americas, Europe, Asia, and India. The firm's strategy combines deep industry expertise and local market experience to deliver the flexibility to support all stages of company development. Warburg Pincus has raised 17 private equity funds, which have invested more than $68 billion in more than 825 companies in more than 40 countries around the world.
Learn more about our technology investment banking expertise