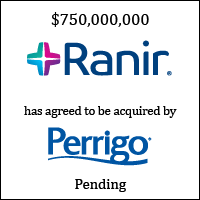 William Blair acted as the exclusive financial advisor to Ranir LLC, a leading global self care company providing oral care products to consumers worldwide owned by the Kiphart family and Camden Partners, in connection with its pending sale to Perrigo Company plc. The transaction was announced on May 9, 2019.
Transaction Highlights
Deep relationships and sector expertise:

Ranir recognized William Blair's extensive knowledge and experience advising personal care companies and first-call access to the most likely strategic and financial buyers globally. William Blair advised the shareholders for over a decade on strategic initiatives and alternatives.

Creative, value-added positioning:

The transaction team clearly articulated Ranir's scarcity value as the leading independent global oral care platform. Through a series of discussions and tailored materials, the team highlighted the synergy opportunities and the strategic fit with Perrigo's recently announced corporate strategy to expand into adjacent self-care categories.

Trusted guidance: William Blair has been a trusted advisor to Ranir for over 10 years, including serving as the company's exclusive financial advisor in its sale to current shareholders. Ranir and the Board of Directors relied heavily on William Blair's guidance, particularly around value maximization and certainty of closing, when the potential for a pre-emptive process emerged.
Execution excellence leads to premium valuation: William Blair's team managed an accelerated pre-emptive process, generating a signed transaction before going to market and delivering an exceptional outcome for shareholders. The transaction team facilitated Perrigo's diligence on an expedited basis, reaching a signed agreement less than five weeks from submitting an indication of interest.
About the Companies
Ranir is a leading global manufacturer of store brand private label consumer oral care products, including power and manual toothbrushes, teeth whiteners, dental floss, flossers, and interdental brushes. Founded in 1979, Grand Rapids, Michigan-based Ranir serves retail customers globally and is committed to delivering affordable, healthy smiles in millions of households every day. Its products, which include some of the world's largest oral care store brands, can be found at major retailers in more than 40 countries. The consumer and customer insight driven research and development-focused company also owns, manufactures and markets the Plackers® and REMBRANDT® brands and proudly employs more than 750 associates worldwide.
Camden Partners is a Baltimore-based private equity firm focused on seed and growth stage investments in healthcare, education, technology, and business services companies.
Perrigo Company plc (NYSE;TASE: PRGO) is dedicated to making lives better by bringing "Quality, Affordable Self-care Products™" that consumers trust everywhere they are sold. The company is a leading provider of over-the-counter health and wellness solutions that enhance individual well-being by empowering consumers to proactively prevent or treat conditions that can be self-managed.
Learn more about our consumer & retail investment banking expertise.