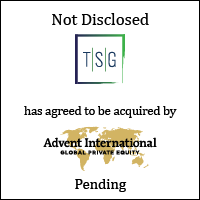 William Blair acted as lead financial advisor to Transaction Services Group (TSG), a portfolio company of Bolton Equities (BE) and Calera Capital (Calera), in connection with its pending sale to Advent International.
Transaction Highlights
Sector expertise: TSG, BE, and Calera were attracted to William Blair's extensive knowledge and experience in the financial technology and vertical market software sectors. The group also recognized William Blair's extensive transaction experience in the integrated payments market, deep understanding of software-led payment distribution models, and strong relationships with potential strategic and financial acquirers for TSG globally.
Execution excellence: William Blair was integrally involved throughout each step of the transaction process, collaborating closely with management in developing marketing materials, coordinating due diligence, and thoughtfully determining process strategy and tactics.
Trusted guidance: William Blair served as a trusted partner by providing hands-on involvement, industry insight, intelligence on a global suite of potential acquirers, and M&A process tactics.
About the Companies
TSG is a leading global revenue management solutions company that provides business management software, integrated payments, and value-added services to clients around the globe. TSG offers highly differentiated, targeted solutions to a range of industries including health and fitness, childcare, education, insurance, healthcare, sports, and entertainment. These solutions are organized around numerous platforms including Clubware, Links Modular Solutions, QK Technologies, Debitsuccess, Paysmart, DFC, and Harlands Group, operating across Australasia, the United States, the United Kingdom, Europe, and Asia.
Founded in 1984, Advent International is one of the largest and most experienced global private equity investors. As of December 31, 2018, the firm had $36 billion (€31 billion) in assets under management, which does not include the $17.5 billion (€15.6 billion) raised for GPE IX. With 14 offices in 12 countries, Advent has established a globally integrated team of more than 195 investment professionals across North America, Europe, Latin America, and Asia. After 35 years dedicated to international investing, Advent remains committed to partnering with management teams to deliver sustained revenue and earnings growth for its portfolio companies.
Bolton Equities Ltd, based in Auckland, New Zealand, is a private equity investment company with significant stakes in a number of private companies in New Zealand and Australia across a wide range of industries.
Founded in 1991, Calera Capital is a private investment firm which has invested over $3.3 billion. With offices in Boston and San Francisco, Calera focuses on partnering with founders and management teams to drive significant value creation in their businesses, primarily in two industry sectors: Business Services and Specialty Industrials. Calera Capital makes substantial equity investments in middle-market businesses and works closely in support of management to build long-term sustainable value through the implementation of strategic and operating initiatives.
Learn more about our technology investment banking expertise.