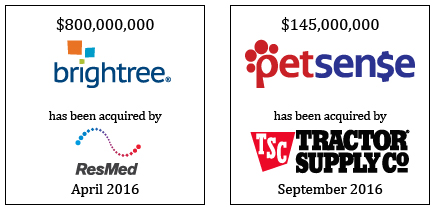 William Blair is proud to announce that two transactions completed by its investment banking team were recognized by Mergers & Acquisitions in the magazine's annual awards. The magazine named ResMed's acquisition of Brightree as the Deal of the Year for 2016 and named Tractor Supply CEO Gregory Sandfort as Dealmaker of the Year for his company's acquisition of Petsense.
"Our insight into the trends that are shaping our clients' industries and our relationships with strategic buyers around the globe allow us to be involved in transformative transactions such as these," said Brent Gledhill, William Blair's global head of investment banking. "These awards are a reflection of the rigorous work that our team put into delivering outstanding outcomes for Brightree and Petsense."
About the Brightree-ResMed Transaction
In February 2016, ResMed (NYSE: RMD), the world's leading technology-driven medical device company and innovator in sleep-disordered breathing and respiratory care, announced that it was acquiring Brightree, the leading provider of cloud-based software to improve clinical and business performance for post-acute care providers. The $800 million transaction was the largest healthcare SaaS transaction of 2016 and the second-largest ever.
The transaction was driven by the ongoing shift of the U.S. healthcare system from a fee-for-service model to a fee-for-value model and the need for players across the healthcare continuum to use informatics and data analytics as tools to share information and deliver care more efficiently. Karl Palasz, a managing director in William Blair's healthcare group and the lead banker on the transaction, said that ResMed's acquisition of Brightree highlights the need for further technology investment and consolidation in the post-acute care market.
"Software such as Brightree's will play a central role in the coordination of care and monitoring of patient outcomes," Palasz told Mergers & Acquisitions in an article announcing the award. "Relative to hospitals and physician practices, the post-acute care segment has underinvested in technology solutions, creating an enormous need for system-wide improvements."
Download the Mergers & Acquisitions Magazine article
About the Petsense-Tractor Supply Transaction
Petsense, pet specialty supply retailer and a portfolio company of Winona Capital Management, was acquired by Tractor Supply Company in September 2016 for $145 million. The acquisition accelerates Tractor Supply's expansion in the rapidly growing pet retail market.
Petsense's proven unit model, strong store-level performance, compelling financial momentum, and track record of door-count growth made it a particularly compelling asset within specialty retail. While strategic acquisitions are relatively rare in specialty retail, Petsense provided an immediate, highly complementary expansion of Tractor Supply's pet specialty retail business. Tractor Supply is the largest rural-lifestyle retail store chain in the United States, operating more than 1,600 stores in 49 states.
"Petsense found the ideal partner in Tractor Supply to help accelerate its growth," said Mike Siska, a managing director in William Blair's consumer and retail group and the lead banker on the transaction. "Both organizations have a keen understanding of how to serve customers in Rural America; pets in these communities are certainly part of the family."