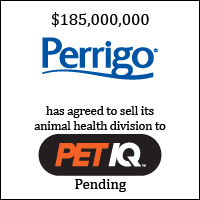 William Blair acted as the exclusive financial advisor to Perrigo Company plc (NYSE:PRGO), in connection with the pending sale of its animal health division to PetIQ, Inc. (NASDAQ:PETQ) for $185 million. The transaction was announced on May 8, 2019 and is expected to close during the second half of 2019.
Transaction Highlights
Sector and public company M&A expertise: Perrigo was attracted to William Blair's extensive experience and relationships in the animal health and pet sectors as well as the firm's public company carve-out M&A advisory experience.
Trusted guidance: William Blair's transaction team worked closely with Perrigo through every step of the transaction process, providing tailored strategic guidance, relevant buyer and market insights, developing customized buyer-specific marketing materials, coordinating an accelerated due diligence process, and thoughtfully determining process tactics and strategy.
Process and execution excellence: William Blair constructed and managed a customized process focused on engaging with the most logical and aggressive buyers, resulting in an exceptional outcome for Perrigo and its shareholders.
About the Companies
Perrigo Animal Health, based in Omaha, Nebraska, is a leading provider of over-the-counter animal health products. With leading brands such as PetArmor® and Sentry®, Perrigo Animal Health brings vet quality solutions to consumers at retail with a commitment to making high quality, affordable pet care products for animals and their owners.
Perrigo Company plc is dedicated to making lives better by bringing "Quality, Affordable Self-care Products™" that consumers trust everywhere they are sold. The company is a leading provider of over-the-counter health and wellness solutions that enhance individual well-being by empowering consumers to proactively prevent or treat conditions that can be self-managed.
PetIQ is a leading, rapidly growing pet health and wellness company. Through over 60,000 points of distribution across retail and e-commerce channels, PetIQ and VIP Petcare, a wholly-owned subsidiary, have a mission to make pet lives better by educating pet parents on the importance of offering regular, convenient access and affordable choices for pet preventive and wellness veterinary products and services.
Learn more about our consumer & retail and healthcare investment banking expertise.