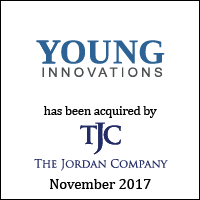 William Blair acted as financial advisor to Young Innovations, Inc. (YI), a portfolio company of Linden Capital Partners, in connection with its sale to The Jordan Company. The transaction closed on November 7, 2017.
Transaction Highlights
Deep relationships and sector knowledge: YI and Linden were attracted to William Blair's highly relevant transaction experience, deep dental expertise, and strong relationships with potential strategic and financial buyers.
Process and execution expertise: William Blair designed and executed a highly competitive marketing process, coordinated a robust due diligence process, and led a competitive negotiation of key transaction terms with multiple potential acquirers. The sale process produced a premium valuation with high certainty of closure and favorable economic and purchase agreement terms.
Trusted guidance: William Blair's transaction team was integrally involved throughout each step of the transaction process. The hands-on involvement and effective communication from William Blair's senior bankers ensured seamless execution and resulted in an outstanding outcome for Linden's shareholders.
About the Companies
Young Innovations develops, manufactures and markets supplies and equipment used by dentists, dental hygienists, dental assistants, and consumers. The company's consumables product offering includes disposable and metal prophy angles, prophy cups and brushes, dental micro-applicators, moisture control products, infection control products, dental handpieces (drills) and related components, endodontic systems, orthodontic toothbrushes, flavored examination gloves, and other products. In addition, the company offers a line of diagnostic products that includes panoramic X-ray machines and related supplies. Young Innovations was founded in the early 1900s and is based in Algonquin, Illinois.
Linden Capital Partners is a Chicago-based private equity firm focused exclusively on leveraged buyouts in the healthcare industry. Linden's strategy is based on three elements: i) healthcare specialization, ii) integrated private equity and operating expertise, and iii) strategic relationships with large corporations. Linden invests in middle-market platforms in the medical products, specialty distribution, pharmaceutical, and services segments of healthcare. Linden was formed in 2002 and currently manages $1.3 billion in assets, augmented by capital provided by its Limited Partners for larger transactions.
The Jordan Company, based in New York with an office in Chicago, is a middle-market private equity firm with original capital commitments in excess of $8 billion and a 35-year track record of investing in and contributing to the growth of many businesses across a wide range of industries. The senior investment team has been investing together for 20 years and is supported by the Operations Management Group, which was established in 1988 to initiate and support operational improvements in portfolio companies.
Learn more about our healthcare investment banking expertise