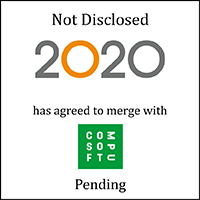 William Blair acted as the exclusive financial advisor to 2020 Technologies, a portfolio company of Genstar Capital, in connection with its pending agreement to merge with Compusoft, a portfolio company of TA Associates. The transaction is expected to close in the second half of 2021.
Transaction Highlights
Highly relevant transaction experience: 2020's merger with Compusoft represents the third time that William Blair has partnered with 2020. William Blair previously served as exclusive financial advisor to 2020 on both the sale to Genstar in May 2021 and the sale to Golden Gate Capital in May 2017.
Deep sector expertise: The transaction team's extensive industry knowledge across vertical software broadly and within the kitchen, bedroom, and bath (KBB) design software market positioned William Blair to advise 2020 on this merger of equals. The merger creates a leading provider of space planning and manufacturing solutions for the residential and commercial segments.
Strong relationships and trusted guidance: William Blair has maintained a trusted partnership with 2020 and Genstar Capital over may years. Genstar has invested in two companies this year through William Blair led M&A processes.
About the Companies
2020 helps professional designers, retailers and manufacturers in the interior design and furniture industries capture ideas, inspire innovation and streamline processes. By providing end-to-end solutions and a large collection of manufacturers' catalogs, 2020's applications enable professional designers and retailers to create kitchens, bathrooms, furniture, and commercial offices that look as stunning on the screen as they do in reality. 2020 solutions for furniture and cabinet manufacturers deliver a complete manufacturing operations management capability to run their factories at maximum efficiency. Founded in 1987 and based in Westford, Massachusetts, 2020 employs more than 850 people with direct operations in 11 countries and supports customers in many more locations around the world through a network of value-added resellers.
Compusoft provides visual CPQ solutions that simplify planning, configuration, and visualization to power sales processes for the kitchen, bathroom, furniture, and window & door industries. Compusoft's solutions assist customers throughout the sales value-chain from end-customers through to manufacturers and are underpinned by a rich content database. Founded in 1989, Compusoft is based in Sarpsborg, Norway, and serves customers in more than 100 countries with over 600 people in 18 countries across Europe, Asia-Pacific, and North America.
Genstar Capital is a leading private equity firm that has been actively investing in high quality companies for over 30 years. Based in San Francisco, Genstar works in partnership with its management teams and its network of strategic advisors to transform its portfolio companies into industry-leading businesses. Together with Genstar X and all active funds, Genstar currently has approximately $33 billion of assets under management and targets investments focused on targeted segments of the financial services, healthcare, industrials, and software industries.
TA Associates is a leading global growth private equity firm. Focused on targeted sectors within five industries – technology, healthcare, financial services, consumer and business services – the firm invests in profitable, growing companies with opportunities for sustained growth, and has invested in more than 535 companies around the world. Investing as either a majority or minority investor, TA employs a long-term approach, utilizing its strategic resources to help management teams build lasting value in high quality growth companies. TA has raised $47.5 billion in capital since its founding in 1968 and is committing to new investments at the pace of over $3 billion per year. The firm's more than 100 investment professionals are based in Boston, Menlo Park, London, Mumbai, and Hong Kong.
Learn more about our technology investment banking expertise.