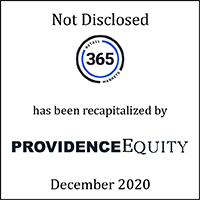 William Blair acted as exclusive financial advisor to 365 Retail Markets (365), a portfolio company of McCarthy Capital (McCarthy), in connection with its recapitalization by Providence Equity Partners (Providence). The transaction was announced and closed on December 23, 2020.
Transaction Highlights
Breadth and Depth of Industry Expertise: The transaction team's unrivaled domain expertise within the foodservice software, integrated payments, and self-service commerce ecosystem enabled William Blair to articulate a powerful growth story to create a unique process strategy and offer a deep understanding of buyer priorities.
Trusted Guidance: William Blair worked closely with 365 and McCarthy throughout the process to provide critical insights around shifting market dynamics and to successfully position 365 as the market leader in the self-service commerce ecosystem with a differentiated platform well-equipped to capitalize on industry tailwinds.
Tailored Process and Execution Excellence: William Blair constructed and managed an accelerated, high-touch process with a targeted and carefully curated group of inbound financial investors, successfully utilizing speed and up-front preparation to generate significant competitive tension.
About the Companies
365 is a leading provider of self-service commerce technology, delivering a fully-integrated software and payments points of sale solution with data-driven consumer engagement technology. The company's self-service technology platform serves as the connective tissue for all stakeholders in the corporate foodservice ecosystem. 365's platform has proven to provide enhanced customer experience and increasing revenue, operational efficiency, and profitability for foodservice operators. Currently, 365 serves over 20,000 locations globally and partners with blue-chip foodservice customers such as Compass Group, Sodexo, and AVI across corporate micro-markets, vending machines, and cafeterias.
Providence is a premier global private equity firm with more than $44 billion in aggregate capital commitments. Providence pioneered a sector-focused approach to private equity investing with the vision that a dedicated team of industry experts could build exceptional companies of enduring value. Since the firm's inception in 1989, Providence has invested in more than 170 companies and is a leading equity investment firm focused on the media, communications, education, software, and services industries. Providence is based in Providence, Rhode Island, and also has offices in New York and London.
McCarthy Partners Management, LLC is a registered investment advisor that conducts business as McCarthy Capital. McCarthy Capital, based in Omaha, NE, is focused exclusively on lower middle-market companies. For more than 30 years, the McCarthy organization has been partnering with founders, families, and exceptional management teams to support the growth of their companies.
Learn more about our technology investment banking expertise.