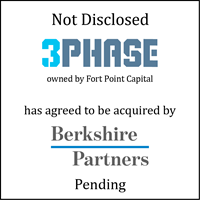 William Blair acted as the exclusive financial advisor to 3Phase Elevator in connection with its pending sale to Berkshire Partners from Fort Point Capital. The transaction was signed on May 13, 2021 and is expected to close by the end of June.
Transaction Highlights
Deep sector knowledge:

3Phase was attracted to William Blair's extensive knowledge and experience in the facility services sector, as well as the firm's strong relationships with likely financial and strategic buyers. This expertise allowed the transaction team to effectively position 3Phase in a way that resonated powerfully with prospective buyers.

Successful positioning:

The transaction team successfully articulated 3Phase's position as a leading independent provider of mission-critical vertical transportation solutions in the most attractive and compelling U.S. metropolitan regions.

Process and execution excellence:

William Blair crafted a highly efficient process focused on the most aggressive sponsors and strategic buyers in the facility services sector, that offered the right cultural fit for management. The team drove a highly competitive process that generated significant interest, resulting in an outlier,
pre-emptive outcome at the IOI phase.
About the Companies
Founded in 1996 and based in Canton, Massachusetts, 3Phase Elevator is a leading independent provider of elevator and escalator maintenance, repair, and modernization services in 14 states across the eastern United States. The company is built on a foundation of exceptional customer service.
Based in Boston, Fort Point Capital is a private equity firm that invests in lower middle market, services-oriented companies in partnership with strong management teams. Fort Point is currently investing out of its second fund, FPC Small Cap Fund II, L.P.
Berkshire Partners, a Boston-based firm, has 35 years of investment history. Berkshire Private Equity has made more than 130 private equity investments since its inception and has a strong history of partnering with management teams to grow the companies in which it invests. Stockbridge, the firm's public equity affiliate, was founded in 2007 and seeks to make public equity investments in high-quality companies with strong competitive positions and long-term growth prospects. The firm invests in business services & technology, communications, consumer, healthcare, and industrials companies.