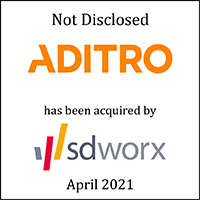 William Blair acted as the exclusive financial advisor to Aditro, a portfolio company of R12 Kapital, in connection with its sale to SD Worx. The transaction signed and closed on 28 April 2021.
Transaction Highlights
Deep sector expertise and relationships: William Blair was selected based on its extensive knowledge and transaction experience advising HR and Payroll software, and longstanding relationships with the most likely buyers in the space. William Blair effectively positioned Aditro as the Pan-Nordic cloud HR and Payroll software platform driving high strategic value.
Execution excellence leading to outlier outcome: William Blair orchestrated a robust multi-phased auction process involving financial sponsors and strategic buyers, local and global, fuelling competitive tension and ultimately delivering an attractive outcome for the sellers.
Highly strategic transaction: The transaction will enable SD Worx to expand to the Nordics and secure a leadership position in the European market building upon Aditro's core, enterprise focused Payroll & HR solution.
About the Companies
Aditro is the leading Nordic cloud HR & Payroll software and service provider to the enterprise market. As a holistic and flexible cloud HR and Payroll platform, Aditro's offering combines modular and feature-rich cloud solutions and cloud-enabled BPO services well-suited to the needs of large complex international businesses. Based in Stockholm, Aditro has offices across Sweden, Norway and Finland with over 600 employees.
SD Worx is a leading European provider of Payroll and HR solutions, addressing through service and software mission-critical business needs, from paying employees to attracting, rewarding and developing the talent who make businesses succeed. SD Worx serves more than 70,000 small and large organisations across the globe and calculates the salaries of approximately 4 million employees. Based in Belgium and with more than 4,600 employees, SD Worx operates in 11 countries across Europe.
R12 is a Swedish investment company managed by co-owners Per Hesselmark and Hans Ramel. R12's investment operations are focused on Scandinavia, though other parts of Europe are important for add-on investments.
Learn more about our technology investment banking expertise.