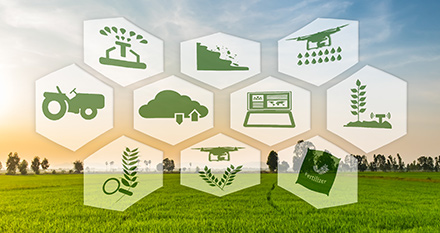 A rapid increase of capital flowing into AgTech, or precision ag, is leading to new technological introductions and potentially disruptive newcomers vying to capture more value from the ag supply chain. Capital goods analyst Larry DeMaria believes the next phase of agricultural productivity growth will be driven by technology adoption and variable rate practices that use data analytics to increase yields and reduce costs through site-specific management. Ultimately, the ag value chain is going through a necessary digitization process given ag-specific challenges such as growing populations and climate change. While the foundation was set over the past decade, the next decade should witness greater adoption of innovative practices and technology enabled by the digitization of the ag industrial complex, potentially accelerated by the impact of COVID-19.
Agriculture, like most industries, is not immune to COVID-19 and its implications. Beyond the initial negative reaction, however, it may ultimately accelerate the trends toward technology adoption, automation, and digitization. DeMaria notes these trends were already in place but may move toward swifter adoption because of the groundwork already done by start-ups and existing ag-industrial companies over the past five-plus years. AgTech investments by companies are long-term strategic and critical investments, and have not generally been subject to cutbacks because of COVID-19. Because of social distancing and labor scarcity, digital tools may become more commonplace, leading to more automaton and robotics. Even sales of equipment, dealer support, and trusted advisor support are being done more remotely now. U.S. farmers, according to the USDA census, are on average more than 57 years old, and in many cases nearing retirement. They, and the next generation, will need to use digital tools for safety concerns and for efficiencies.
The Digitization of the Industrial Farming Complex Is Developing and Laying the Foundation for the Industry
There are a few initial implications for the evolution of farming as the industry digitizes and brings transparency—and in DeMaria's view, transparency ultimately is the disruptor for the industry. Farming is a fragmented business with a wide array of operators in different stages of their technology and digital adoption, where gut and intuition have historically been favored over data analysis and data-based decision-making. Farmers, however, are caught in the middle of large oligopolistic companies, such as in the machinery, seed, and chemical industries, that appropriate more value from farming revenue every year. Farmers have been promised yield increases over time, but costs have been high and without a proven concept. Data analytics and transparency will create demonstrable value-added services and products for growers to embrace; this should enable the shared burden of payments across the value chain and allow pricing to be driven by clear ROIs. The industry is historically slow moving, but the messaging and economics are being embraced more every year.
New AgTech Verticals Emerging, Including Machine Learning and AI
Machine learning and AI are the biggest disruptors from OEMs that DeMaria sees as the industry slowly walks toward autonomy. Fully autonomous equipment is possible today, but DeMaria does not expect that there will be greater adoption of autonomous equipment working on farms for another three to four years (and in conjunction with manned equipment working). Instead, for now, OEMs are automating specific jobs and functions for farms with algorithms and software to make better decisions in real time. Some OEMs are taking the approach of an in-house technology solution, while others are teaming up to supply more agnostic platforms.
AI has presented itself as a solution because it can help farmers increase productivity and yield by controlling pests, monitoring crop health, observing soil activity, and improving ag-related tasks throughout the supply chain. Other AI capabilities include predictive analytics, recommendation analytics, and disease identification. Put another way, AI is expected to enable predictive analytics and crop and soil management through the integration of central operations and field machinery. For example, AI can recommend the appropriate amount of seed for sowing by using historical long-term weather reports, production data, commodity pricing predictions, and seed information. Technavio estimates that the AI market will report a CAGR of 25.4% between 2019 and 2025. In 2018, the AI market was valued at $608 million. However, OEMs will charge for AI capabilities with embedded technology in their machines, which suggests that the value accrued to them will be greater.
Another relevant segment that falls under the umbrella of AI is precision farming; its capabilities include data collection, data interpretation, and data analysis. GPS-equipped combine harvesters deploy AI to track variances in water, soil makeup, or fungus to ultimately enable growers to customize fertilizers or pesticides accordingly. In sum, this capability takes the guesswork out of the farming process. Lastly, AI has given birth to driverless tractors. With GPS-based autonomous driving, these tractors can move tools around the farm, recognizing farm boundaries, and be controlled from a tablet.
Increase in Patent Activity Has Led to New Products as Farmers Digitize
An examination of patent data shows that companies have increased their targeted spending on the precision pipeline around connectivity and machine learning. An analysis of patent data can help show which company has the most effective spend and technology, exposing the pipelines to see where the investments suggest the market is going. Patent filing increased dramatically in the latter part of the past decade. Overall, the data shows the continuing digitization of the ag value chain with a focus on connected equipment and variety of technologies.
The cell diagram in the following exhibit shows the keywords and phrases of the patents belonging to the top organizations in the technology field. The relative coverage is represented by the number of cells under each organization, with each cell representing the same number of patents. This provides context and a deeper understanding of the concepts related to the top organizations. It also differentiates between the technological focus of each of the top organizations. Historically, this would have been expected to be mostly around higher-horsepower-related investments but now focuses on diverse precision-related technologies around implementation and data-oriented workflow. The benefits are already being seen with the newest ag products and the increasing uptake by farmers for equipment with high-tech options.
Patent Technology Mosaic
Increased M&A and Financing Activity
Funding by private equity and venture capital investors has increased substantially across AgTech verticals over the past five years. In addition, there has been noteworthy M&A activity across multiple AgTech subverticals. Activity has been driven by: 1) the rising costs of inputs, 2) shifting land-use priorities, and 3) consumer demands for transparency and sustainability, among others. For the most part, AgTech firms raise and have raised capital from either private equity (PE) or venture capital (VC), and 2013 is when activity in this space took off. PitchBook data revealed that AgTech financing surpassed $895 million in 2018. Also, in 2018, median late-stage valuation increased to $78 million, from $50 million in 2017. During 2018, some companies were valued at more than $100 million. While the entire AgTech sector is experiencing growth, certain AgTech subverticals are experiencing more growth than others. In 2018, crop protection and input management received $576 million in VC funding across 14 deals, while precision ag received $41.8 million in VC funding across 18 deals. Other noteworthy subverticals include indoor ag, ag marketplace and fintech, sensor and farm equipment, imagery, plant science, and animal technology.
OEM Strategies Range From Captive to Agnostic; Upgrade Cycle Could Lead to Tech Adoption
In all three major ag markets, the annual volume of equipment sales is below midcycle, implying that technology-enabled equipment replacement is forthcoming. Therefore, DeMaria is confident that 2020 will represent the cyclical bottom and 2021 will witness a better demand environment and rebound in production. The biggest driver of ag sales remains replacement, which underpins the market. Also, take-rates of technology such as for planters and combines are growing. The important point, in DeMaria's view, is that the next wave of replacement will begin to incorporate high-tech precision solutions that will further move farming toward automation and data connectivity.
For a copy of the "AgTech Revolution" report mentioned in this article or for more information on the companies from Larry DeMaria's coverage list, please contact your William Blair salesperson.