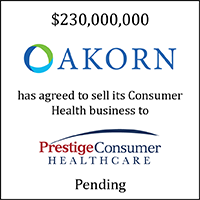 William Blair acted as the exclusive financial advisor to Akorn, Inc. (Akorn) in connection with the pending sale of its Consumer Health business to Prestige Consumer Healthcare (Prestige). The Consumer Health business offers a leading portfolio of over-the-counter consumer health brands, including TheraTears®, Diabetic Tussin®, MagOx®, Multi-betic®, and Zostrix®. The transaction was announced on May 27, 2021.
Transaction Highlights
Sector expertise and deep relationships: Akorn recognized William Blair's extensive knowledge and expertise in the consumer health and healthcare sectors and first-call access to the most likely strategic and financial buyers.
Process and execution excellence: William Blair's team managed a highly competitive, high-touch process on an accelerated timeline, navigating multiple buyers through a complex carve-out.
Thoughtful and compelling positioning: William Blair clearly articulated the Consumer Health business as a portfolio of highly efficacious, science-based regimens trusted by consumers and recommended by doctors to address widespread consumer problems, such as dry eye. Other key positioning themes include a leading position in the largest eye care segment, consistent above-category growth, track record of successful innovation, and winning omni-channel model.
Trusted guidance: The transaction team was integrally involved throughout each step of the transaction process, including close collaboration with management in developing marketing materials, coordinating due diligence and negotiating key contract terms.
About the Companies
Akorn's Consumer Health business is a leading portfolio of branded consumer health solutions across eye care, cough & cold, vitamins, minerals and supplements and natural pain relief, under brands such as TheraTears®, Diabetic Tussin®, Mag-Ox®, Multi-betic®, and Zostrix®. The company's products, which have leading market share positions within their respective segments, are sold through retailers and E-Commerce channels throughout the United States, Canada, and other international markets.
Akorn develops, manufactures and markets specialty pharmaceuticals, including prescription, consumer health and animal health products. As an industry leader in branded and generic products in alternate dosage forms such as ophthalmics, injectables, oral liquids, otics, topicals, inhalants and nasal sprays, Akorn focuses each day on its mission to improve lives, through the quality, availability and affordability of its products.
Prestige Consumer Healthcare markets, sells, manufactures and distributes consumer healthcare products to retail outlets and E-Commerce throughout the United States and Canada, Australia, and in certain other international markets. The company's diverse portfolio of brands include Monistat® and Summer's Eve® women's health products, BC® and Goody's® pain relievers, Clear Eyes® eye care products, DenTek® specialty oral care products, Dramamine® motion sickness treatments, Fleet® enemas and glycerin suppositories, Chloraseptic® and Luden's® sore throat treatments and drops, Compound W® wart treatments, Little Remedies® pediatric over-the-counter products, Boudreaux's Butt Paste® diaper rash ointments, Nix® lice treatment, Debrox® earwax remover, Gaviscon® antacid in Canada, and Hydralyte® rehydration products and the Fess® line of nasal and sinus care products in Australia.
Learn more about our consumer and retail investment banking expertise.