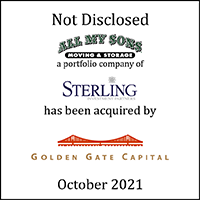 William Blair acted as the lead financial advisor to All My Sons (AMS), a portfolio company of Sterling Investment Partners (Sterling), in connection with its sale to Golden Gate Capital. All My Sons is the country's leading tech-enabled moving and home services platform, with over 75 locations across the United States and nearly 30 years of continued growth.
Transaction Highlights
Unmatched sector expertise drove differentiated positioning: All My Sons and Sterling recognized William Blair's extensive knowledge and experience advising leading tech-enabled consumer and residential services businesses. The transaction team effectively focused investors on the distinctive and highly impressive tech-enabled service model, the sustainability of market demand and performance, and an actionable growth plan with multiple levers for continued growth.
Deep buyer relationships and insights: The William Blair team designed a competitive process targeting the most relevant buyers. The team's exceptional relationships with consumer and technology investors along with a tailored, high-touch approach yielded competition with multiple engaged parties throughout.
Highly successful pre-emptive outcome: The transaction team guided management through a bespoke and effective marketing process, resulting in an actionable final proposal at the re-bid date, ensuring an exceptional valuation and outcome for shareholders.
About the Companies
All My Sons is the largest national, non-franchised provider of residential moving services in the United States and has served well over one-million customers since its founding in 1992. AMS provides local, short haul, long haul, and other moving services for house and apartment moves and is disrupting the market with a powerful tech-enabled model and digital marketing platform.
Based in Westport, Connecticut, Sterling Investment Partners is a middle-market private equity investment firm that has completed over 180 transactions, representing $19.4 billion in gross transaction value. Sterling focuses on management-led buyouts, and seeks to invest in business with strong, sustainable competitive advantages, and growth potential.
Golden Gate Capital is a San Francisco, California based private equity firm with $19 billion of cumulative committed capital. The firm operates as a private holding company and pursues all types of transaction structures ranging from conventional buyout, carve-outs, bankruptcy restructuring, refinancing, and going private transactions. Golden Gate is dedicated to investing in high-growth businesses in change-intensive industries.
Learn more about our consumer and retail investment banking expertise.