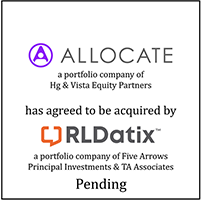 William Blair acted as financial advisor to Allocate, a portfolio company of Hg and Vista Equity Partners (Vista), in connection with its pending sale to RLDatix, a portfolio company of Five Arrows Principal Investments and TA Associates. The transaction was announced on June 26, 2021 and is expected to close in the coming weeks subject to final regulatory approvals.
About the Companies
Allocate Software is a leading international provider of Human Capital Management solutions, supporting the operational and administrative needs of health, care, defense, and commercial sectors. In the health and care sector, Allocate is enabling the delivery of safe and effective care at optimal cost, by helping organizations to have the right people in the right place at the right time. With over 800 clients and over two million staff rostered daily, Allocate serves the largest public and private sector institutions around the world. Allocate Software is based in the United Kingdom, with nearly 700 employees, including over 200 in research, development, and product management functions. It provides services and support to its international customer base through regional offices in the U.K., Sweden, Germany and Australia.
Hg is a leading investor in software and services, focused on backing businesses that change how we all do business. Deep technology expertise, complemented by vertical application specialization and dedicated operational support, provides a compelling proposition to management teams looking to scale their businesses. Hg has funds under management of over $30 billion, with an investment team of over 140 professionals, plus a portfolio team of more than 35 operators, providing practical support to help our businesses to realize their growth ambitions. Based in London, Munich, and New York, Hg has a portfolio of over 35 software and technology businesses, worth around $70 billion aggregate enterprise value, with over 50,000 employees globally.
Vista is a leading global investment firm with more than $75 billion in assets under management as of December 31, 2020. The firm exclusively invests in enterprise software, data, and technology-enabled organizations across private equity, permanent capital, credit and public equity strategies, bringing an approach that prioritizes creating enduring market value for the benefit of its global ecosystem of investors, companies, customers, and employees. Vista's investments are anchored by a sizable long-term capital base, experience in structuring technology-oriented transactions and proven, flexible management techniques that drive sustainable growth. Vista believes the transformative power of technology is the key to an even better future—a healthier planet, a smarter economy, a diverse and inclusive community and a broader path to prosperity.
RLDatix is on a mission to change healthcare. We help organizations drive safer, more efficient care by providing governance, risk and compliance tools that drive overall improvement and safety. Our suite of cloud-based software helps organizations report on adverse events, reduce healthcare-acquired infections and ensure patient safety learnings are implemented across the continuum of care. With over 4,500 customers in 19 countries, RLDatix software protects hundreds of millions of patients around the world. RLDatix is controlled by Five Arrows and TA Associates as major shareholders.
Five Arrows Principal Investments (FAPI) and Five Arrows Capital Partners (FACP), together "Five Arrows", are part of the corporate private equity arm of Rothschild & Co's Merchant Banking business which manages over €16 billion. Five Arrows is focused on investing in middle-market companies with highly defensible market positions; strong management teams; business models with high visibility of organic unit volume growth and strong free cash flow conversion; and multiple operational levers that can be used to unlock latent value. Sectors are limited to data and software, technology-enabled business services and healthcare.
TA Associates is a leading global growth private equity firm. Focused on targeted sectors within five industries – technology, healthcare, financial services, consumer, and business services – the firm invests in profitable, growing companies with opportunities for sustained growth, and has invested in more than 535 companies around the world. Investing as either a majority or minority investor, TA employs a long-term approach, utilizing its strategic resources to help management teams build lasting value in high-quality growth companies. TA has raised $47.5 billion in capital since its founding in 1968 and is committing to new investments at the pace of over $3 billion per year. The firm's more than 100 investment professionals are based in Boston, Menlo Park, London, Mumbai, and Hong Kong.
Learn more about our technology and healthcare IT investment banking expertise.