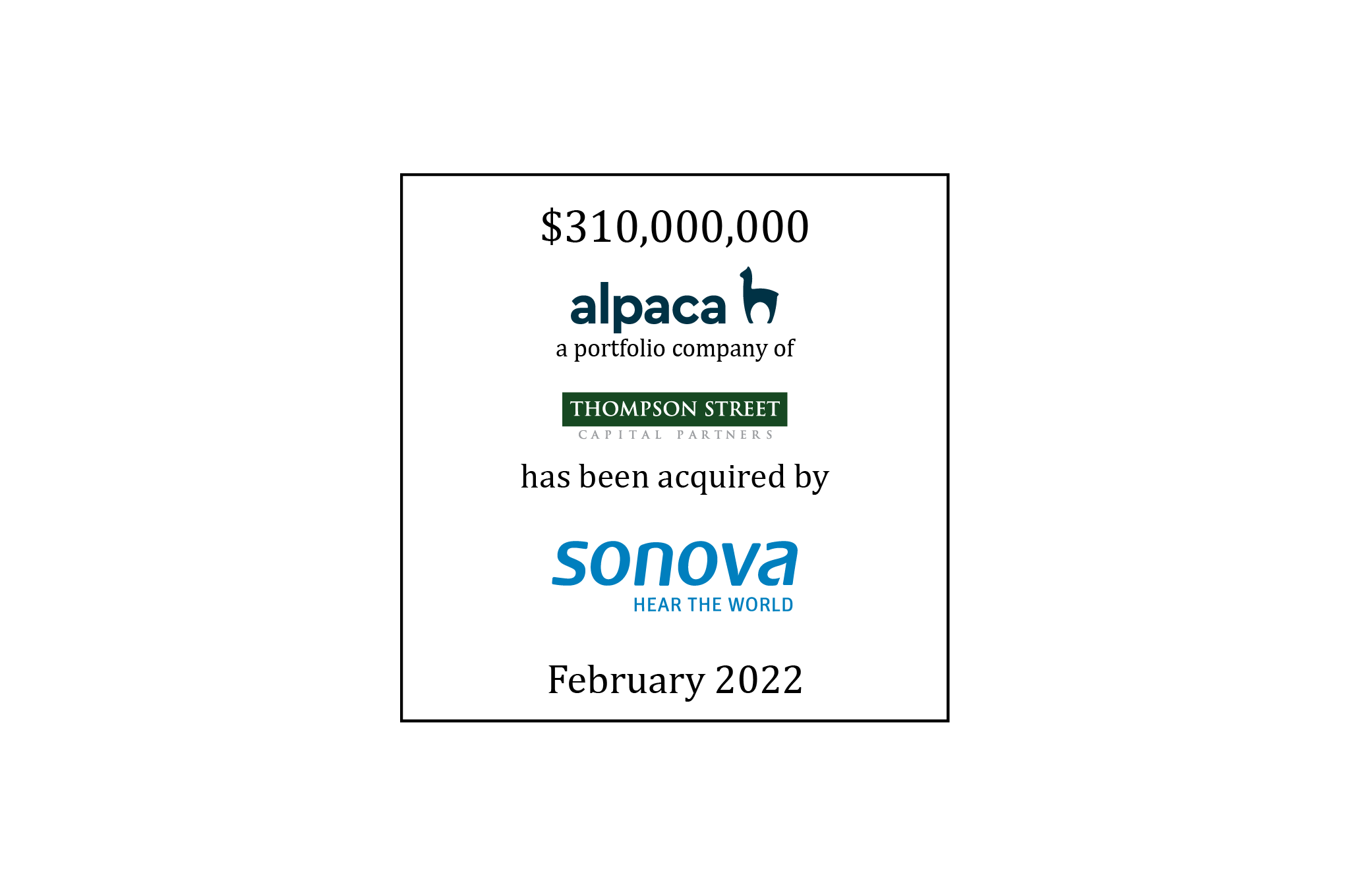 William Blair acted as exclusive financial advisor to Alpaca Audiology in connection with its sale to Sonova Holdings AG. The transaction closed on February 28, 2022.
Transaction Highlights
Deep sector knowledge: The transaction team's extensive knowledge and experience in advising market-leading consumer healthcare companies enabled William Blair to effectively position Alpaca Audiology and its unique growth opportunity.
Process and execution excellence: William Blair worked closely with management and the board to navigate a changing regulatory and competitive landscape, finding the right partner amidst potential changes to reimbursement and coverage under Medicare; new legislation authorizing OTC sales; and DTC entrants from established brands such as Apple and Bose.
Highly synergistic transaction: The combined entity will create a stronghold for Sonova in the United States, doubling its clinic count with access to an ever-expansive global network. With access to the Alpaca network, Sonova will have significant opportunities to continue to grow their patient base and become the leading audiology platform in the country.
About the Companies
Alpaca Audiology is the largest independent audiology platform in the country. Alpaca provides audiologists with the tools, networks, and technology paramount for growth and success, while simultaneously empowering providers to focus more time on their patients. With 13 regional brands and a wide offering of products, Alpaca has differentiated itself as the premier audiology platform in the country.
Thompson Street Capital Partners is a St. Louis-based private equity firm specializing in founder-led middle market investments. Founded in 2000, Thompson Street has acquired over 150 companies in the healthcare & life sciences, software & technology services, and business services and engineered products sectors. Their fund values management teams that focus on accelerating growth, both organically and via complementary acquisitions. Since its founding, Thompson Street has managed more than $2.6 billion in middle market companies.
Sonova Holdings AG designs, develops, and distributes hearing systems for adults and children with hearing loss. The Swiss public company offers hearing instruments under the Phonak and Unitron brands, operates over 200 Connect Hearing and Elite Hearing Center audiology clinics across the United States and over 3,300 clinics total across the Americas, Europe, the Middle East, Africa, and Asia.
Learn more about our healthcare services investment banking expertise.