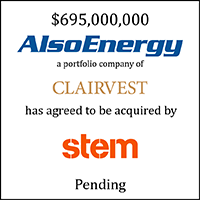 William Blair acted as the exclusive financial advisor to AlsoEnergy, a portfolio company of Clairvest Group in connection with its pending sale to Stem, Inc. (Stem) (NYSE: STEM). The transaction was signed on December 16, 2021 and is expected to close in the first quarter of 2022.
Transaction Highlights
Highly strategic transaction: The acquisition is highly strategic for both AlsoEnergy and Stem as the combination will leverage Stem's unique storage optimization capabilities with AlsoEnergy's market-leading solar asset performance monitoring and control software to deliver a compelling one-stop-shop solution for renewable energy projects.
Asset management and energy software expertise: AlsoEnergy and Clairvest were attracted to William Blair's breadth of industry knowledge, deep financial sponsor and strategic investor relationships, and highly relevant transaction experience advising leading companies in the asset management and energy software sectors. William Blair is committed to the renewable energy and sustainability markets, having completed two marquee renewable energy transactions in 2021.
Trusted sell-side guidance and process excellence: William Blair executed an efficient process from the onset to maximize process agility and flexibility, which enabled the team to capitalize on significant counterparty engagement and momentum within the renewable energy market. The customized process design and best-in-class execution drove an outsized outcome for AlsoEnergy.
About the Companies
AlsoEnergy provides complete advanced solutions for control, monitoring, and management of solar PV and solar plus storage assets. This includes integrated software and hardware systems for DAS, SCADA, and power plant control, along with services covering the project lifecycle from system design and engineering through installation, commissioning, and support. AlsoEnergy provides technology solutions for more than 30 gigawatts of production in over 50 countries, providing regional expertise in all world markets using sales and service offices in Germany, Japan, and India along with its U.S. headquarters.
Stem provides solutions that address the challenges of today's dynamic energy market. By combining advanced energy storage solutions with Athena®, a world-class AI-powered analytics platform, Stem enables customers and partners to optimize energy use by automatically switching between battery power, onsite generation, and grid power. Stem's solutions help enterprise customers benefit from a clean, adaptive energy infrastructure and achieve a wide variety of goals, including expense reduction, resilience, sustainability, environmental and corporate responsibility, and innovation. Stem also offers full support for solar partners interested in adding storage to standalone, community or commercial solar projects – both behind and in front of the meter.
Learn more about our technology investment banking expertise.