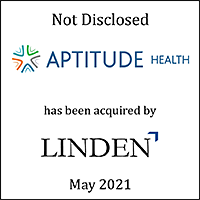 William Blair acted as the exclusive financial advisor to Aptitude Health in connection with its sale to Linden Capital Partners.
Transaction Highlights
Deep sector expertise and relationships: William Blair was selected based on its extensive knowledge and transaction experience advising pharma tech-enabled services companies, and longstanding relationships with the most likely strategic and financial buyers. Sector knowledge allowed for superior positioning that resonated with the ultimate buyer.
Trusted guidance: William Blair's deal team worked closely with Aptitude Health's management throughout each step of the transaction process, including performing extensive financial analyses, developing marketing materials, leading buyer outreach, coordinating due diligence with multiple parties, counseling on transaction tactics, and negotiating key contract terms.
Execution excellence leads to premium valuation: The deal team designed and managed a highly competitive and efficient strategic and sponsor focused process. The company attracted significant buyer interest and the deal team capitalized on continued outperformance throughout the process to drive an outsized valuation.
About the Companies
Aptitude Health is a global healthcare company dedicated to transforming the world's growing scientific and clinical knowledge into better cancer patient outcomes. Aptitude Health's evidenced-based solutions assist life science companies seeking to identify, develop, and commercialize oncology and hematology innovations. The company has a proven track record of providing detailed clinical insights and support to over 55 major life science companies globally. Aptitude Health's medical expertise is backed by unparalleled access to over 2,200 global disease state experts and community-based oncologists / hematologists.
Linden Capital Partners is a Chicago-based private equity firm focused exclusively on the healthcare industry. Founded in 2004, Linden is one of the country's largest dedicated healthcare private equity firms. Linden's strategy is based upon three elements: (i) healthcare specialization, (ii) integrated private equity and operating expertise, and (iii) its differentiated human capital program. Linden invests in middle market platforms in the medical products, specialty distribution, pharmaceutical, and services segments of healthcare. Since its founding, Linden has invested more than $2 billion in healthcare companies and has raised over $3 billion of commitments, augmented by capital provided by the firm's limited partners for larger transactions.
Learn more about our healthcare investment banking expertise.