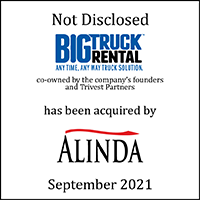 William Blair acted as the exclusive financial advisor to Big Truck Rental (BTR), co-owned by the company's founders and Trivest Partners LP (Trivest), in connection with its sale to Alinda Capital Partners (Alinda) and existing and new management investors.
Transaction Highlights
Deep sector expertise: BTR and Trivest were attracted to William Blair's extensive knowledge of the essential services sector, particularly the waste industry, and experience working with tech-enabled businesses providing mission-critical solutions. The team leveraged its specialty vehicle sector, waste industry expertise, and comprehensive understanding of the business to thoughtfully position BTR to the market and present a compelling investment opportunity.
Process and execution excellence: The William Blair team invested significant time upfront to get to know the company and the management team which included hosting BTR at the 2020 William Blair Private Equity Conference. The team worked closely with BTR management and Trivest to design and manage a highly competitive process comprised of a tailored group of financial sponsors and highly logical strategics. Significant upfront preparation, including an in-depth market study and detailed quality of earnings report that substantiated pro forma earnings, coupled with a high-touch process focused the most relevant buyers, and effective execution resulted in a successful outcome for BTR shareholders.
Strong relationship and trusted guidance: Derek Beres had sold a different company for Trivest while at a prior firm and Jeff Burtelow had recently sold a company to the ultimate buyer of BTR, Alinda Capital Partners.The transaction team built on this foundation of trust to develop a strong relationship with the company's founder and management team. Both the Seller's and the Buyer's trust in the transaction team was instrumental in selecting the right partner for the company's next stage of growth and achieving a premium outcome for the shareholders.
About the Companies
Founded in 2002 and based in Tampa, Florida, Big Truck Rental is the market-leading provider of refuse vehicles to the waste industry, offering both rental and off-rent vehicle sales. The company also offers a growing fleet of terminal tractors for rent and sale. BTR operates the largest, broadest fleet of rental refuse vehicles in North America, serving public, private, and municipal waste service providers, many of whom are longstanding partners of BTR.
Trivest Partners LP, with offices in Miami, Charlotte, Chicago, Los Angeles, Philadelphia, and Toronto, is a private investment firm that focuses exclusively on the support and growth of founder-led and family-owned businesses in the U.S. and Canada in both control and non-control transactions. Since its founding in 1981, Trivest has completed more than 350 investments, totaling approximately $7 billion in value. Trivest is one of only 14 firms recognized on Inc. Magazine's list of the top founder-friendly private equity firms in three consecutive years. Trivest initially invested in BTR in 2018 through its Trivest Growth Investment Fund (TGIF), a fund dedicated to making non-control and growth investments in founder and family-owned companies.
Alinda makes equity investments in infrastructure. Alinda was founded in 2005 and is one of the world's most experienced infrastructure investment firms. The Firm is a long-term investor in infrastructure assets that provide essential services to communities. Alinda has invested in infrastructure businesses that operate in all the 50 states in the United States as well as in Canada, the United Kingdom and continental Europe. These businesses serve over 100 million customers annually in more than 550 cities globally and are run by a workforce of over 80,000 people. Alinda's investors are predominantly pension funds for public sector and private sector workers. They include some of the largest institutional investors in the world.
Learn more about our supply chain commercial services and technologies investment banking expertise.