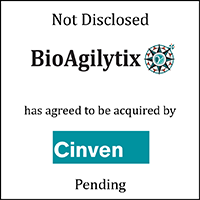 William Blair acted as financial advisor to BioAgiltyix in connection with its pending sale to Cinven. The transaction was announced on November 17, 2021 and is expected to close in December 2021.
Transaction Highlights
Deep sector knowledge: BioAgilytix, Cobepa, and GHO Capital were attracted to William Blair's extensive knowledge and highly relevant transaction experience advising leading companies in the pharmaceutical services space as well as its deep understanding of BioAgilytix's long-term vision and growth avenues.
Trusted guidance: William Blair worked with management and shareholders throughout the highly competitive process, including coordinating buyer outreach, developing marketing materials, and negotiating key contract terms.
Deep relationships: William Blair has maintained a long-term relationship with BioAgilytix, Cobepa, and GHO Capital, having worked with the company extensively over the past 6 years.
About the Companies
BioAgilytix is a leading global contract research organization focused on supporting pharmaceutical and biotech partners in all phases of drug development. With laboratory locations in North Carolina's Research Triangle Park; Cambridge, Massachusetts; San Diego, California; Melbourne and Brisbane, Australia and Hamburg, Germany, BioAgilytix provides PK, immunogenicity, biomarkers, and cell-based assay services supporting the development and release testing of therapeutics across a number of industries and disease states.
Based in Brussels, New York, and Munich, Cobepa is a privately-held investment company backed by European families. Cobepa manages a diversified portfolio of private equity investments valued at approximately $4 billion. Cobepa invests in leading companies with superior business models, sustainable market positions and leading management teams.
Global Healthcare Opportunities, or GHO Capital Partners LLP, is a leading specialist healthcare investment advisor based in London. They partner with strong management teams to generate long-term sustainable value, improving the efficiency of healthcare delivery to enable better, faster, more accessible healthcare.
Cinven is a leading international private equity firm focused on building world-class global companies. Its funds invest in six key sectors: Business Services, Consumer, Financial Services, Healthcare, Industrials and Technology, Media and Telecommunications. Cinven has offices in London, Frankfurt, Paris, Milan, Madrid, New York, Guernsey, and Luxembourg.
Learn more about our healthcare services investment banking expertise.