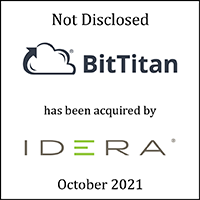 William Blair acted as the exclusive financial advisor to BitTitan Inc., a founder owned and led business, in connection with its acquisition by Idera, a portfolio company of TA Associates and Partners Group.
Transaction Highlights
Unrivaled domain expertise: BitTitan was attracted to William Blair's deep industry experience and domain acumen with leading companies in the enterprise IT and cloud infrastructure space.
Strong alignment on vision: William Blair positioned BitTitan's two products, combined with its recent acquisition of a cloud data synchronization platform, to form a full management lifecycle for data migrated to, within, and between clouds.
Trusted guidance and M&A expertise: William Blair has deep M&A experience and long-term relationships with the leading buyers in the process. The company relied on William Blair to navigate a detailed negotiation culminating in a successful strategic exit.
About the Companies
BitTitan is a B2B SaaS company that empowers IT professionals to seamlessly, and in an automated way, migrate employee data, including email, documents and collaboration files, from one environment to another. BitTitan's business was initially focused on moving data stored on-premise to data stored "in the cloud," primarily in the Microsoft ecosystem. Today, more than 50% of BitTitan's business is cloud-to-cloud migrations from leading cloud service providers including Microsoft, Google, and Dropbox. BitTitan has successfully performed more than 20 million migrations across 40,000 plus customers in over 180 countries.
Idera, Inc. delivers B2B software productivity tools that enable technical users to do more with less, faster. Idera, Inc. brands span three divisions—Data Tools, Developer Tools, and DevOps Tools—with products evangelized by millions of community members and more than 50,000 customers worldwide, including some of the world's largest health care, financial services, retail, and technology companies.
Learn more about our technology investment banking expertise.