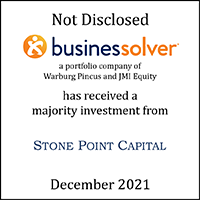 William Blair acted as the exclusive financial advisor to Businessolver, a portfolio company of Warburg Pincus and JMI Equity, in connection with its majority investment from Stone Point Capital. The transaction closed on December 1, 2021.
Transaction Highlights
Longstanding relationship: William Blair has been an active and ongoing advisor to Businessolver starting prior to Warburg Pincus' investment in 2018. Jon Shanahan, CEO, is an active participant in William Blair events including the Benefit Technology Conferences, CEO Huddles, and other events.
Deep sector expertise: Businessolver and Warburg Pincus were attracted to William Blair's business understanding as well as deep sector expertise in healthcare benefits and HR technology. The recapitalization of Businessolver represents William Blair's largest transaction in the healthcare benefits technology space and the 37th transaction since 2012, accounting for over $15.5 billion in aggregate transaction value.
Process and execution excellence: The transaction team designed and managed a highly competitive process, successfully positioning Businessolver as the premier SaaS-based provider of employee benefits administration and HR software. The transaction brings a new perspective and investment from Stone Point, while maintaining consistency with all previous investing partners continuing their focus to scale the business.
About the Companies
Businessolver has delivered market-changing benefits technology and services supported by an intrinsic responsiveness to client needs since 1998. The company creates client programs that maximize benefits program investment, minimize risk exposure, and engage employees with easy-to-use solutions and communication tools to assist them in making wise and cost-efficient benefits selections. Founded by HR professionals, Businessolver's unwavering service-oriented culture and secure SaaS platform provide measurable success in its mission to provide complete client delight.
Warburg Pincus LLC is a leading global growth investor with more than $67 billion in private equity assets under management. The firm's active portfolio of more than 215 companies is highly diversified by stage, sector, and geography. Warburg Pincus is an experienced partner to management teams seeking to build durable companies with sustainable value. Founded in 1966, Warburg Pincus has raised 20 private equity funds, which have invested more than $97 billion in over 960 companies in more than 40 countries.
JMI Equity is a growth equity firm focused on investing in leading software companies. Founded in 1992, JMI has invested in over 165 businesses in its target markets, successfully completed over 110 exits, and raised more than $6 billion of committed capital. JMI partners with exceptional management teams to help build their companies into industry leaders.
Stone Point is an investment firm based in Greenwich, Connecticut, with approximately $30 billion of assets under management. Stone Point targets investments in companies in the global financial services industry and related sectors. The firm invests in a number of alternative asset classes, including private equity through its flagship Trident Funds. Stone Point also manages both liquid and private credit funds and managed accounts. In addition, Stone Point Capital Markets supports the firm, portfolio companies, and other clients by providing dedicated financing solutions.
Learn more about our healthcare services and technology investment banking expertise.