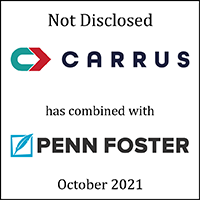 William Blair acted as the exclusive financial advisor to Carrus (or the company), a portfolio company of Revelstoke Capital Partners, in connection with its combination with Penn Foster. The transaction signed on August 23, 2021 and closed on October 12, 2021.
Transaction Highlights
Education and training sector expertise: William Blair's in-depth sector knowledge across the education and training landscape and deep relationships with the most relevant financial and strategic buyers enabled the team to position the company for a successful outcome. The transaction is William Blair's 15th transaction in the education and training sector since 2020.
Creative, successful positioning: William Blair articulated Carrus's market-leading position in allied health education and training and ongoing transformation to a dynamic, enterprise healthcare training solution; this was further substantiated by the company's high growth profile, new customer wins, and marketing expertise.
Process and execution excellence: William Blair's transaction team designed a broad marketing process across education, training, and healthcare buyers to drive competition in a crowded marketplace.
About the Companies
Carrus is an all-in-one healthcare training platform designed to fully prepare the workforce for tomorrow, upskill current staff, and keep organizations trained on the latest industry policies, procedures, and methods of care. Carrus is comprised of three key segments, CareerStep, CareerCert, and EHR Go which provides multiple touch points in the healthcare landscape.
Revelstoke Capital Partners is a private equity firm that helps build industry-leading healthcare and related business service companies. Based in Denver, Colorado, the firm has invested in 112 companies, including 91 add-ons, and currently has nearly 4 billion in assets under management. Revelstoke strives to partner with management teams to execute on a disciplined organic and acquisition strategy to build industry-leading companies and generate superior investment returns for management owners and investor partners.
Penn Foster is a leading provider of practical, affordable programs for high school, college, and career school. The company's mission is to enhance the lives of students and clients through acquisition of knowledge, skills, and credentials that can help them work towards goals of advancing in their chosen field, starting a new career, or pursuing lifelong learning.
Learn more about our tech-enabled services investment banking expertise.