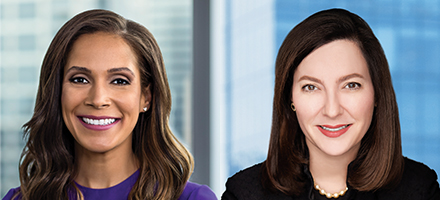 William Blair's Ellen-Blair Chube and Heather Gardner were named to Crain's 2021 Notable Nonprofit Board Leaders list, recognizing Chicago's top civic leaders.
Chube, a managing director with the firm's Investment Banking team, and Gardner, a senior client services manager with Investment Management, were among 70 prominent board leaders ranked in the magazine's list released October 11. Chube was cited for her leadership with the Chicago Children's Choir and Gardner for her involvement with the Civic Leadership Foundation.
Chube, who has nearly two decades of strategic leadership experience spanning government and private sector, serves on various company and nonprofit boards. Among those is the Chicago Children's Choir (CCC), founded during the Civil Rights Movement, inspires and unites youth from different backgrounds to become leaders through music. Chube nominated the CCC in 2019 as a William Blair community partner, championing the group and its young artists throughout the pandemic when choral training and programs went virtual. Singers' virtual performances, shared by CCC and producing partners, garnered more than 241 million views in 2020 and 2021.
"Her work to ensure diverse voices and leadership are at the table has been vital for upholding CCC's commitment to board diversity and to its strategic service of youth across Chicago," Josephine Lee, CCC president, wrote in nominating Chube as a notable nonprofit leader.
Gardner is responsible for financial institutional development and relationship management for William Blair Investment Management. She has been a long-time advocate of the Civic Leadership Foundation, which provides leadership programs for middle school students to help them succeed in school, their future careers, and as engaged community citizens. Gardner has been the treasurer and chair of the foundation's finance committee for several years, and an active fundraiser and promoter of Civic Leadership.
"Heather has deep financial expertise and brings strategic thinking to the board," Howard Rossman, the founder and president of the Civic Leadership Foundation, said in nominating Gardner. "That combination of strategy and finance is crucial in developing the focus and resources necessary to serve the young people of Chicago."