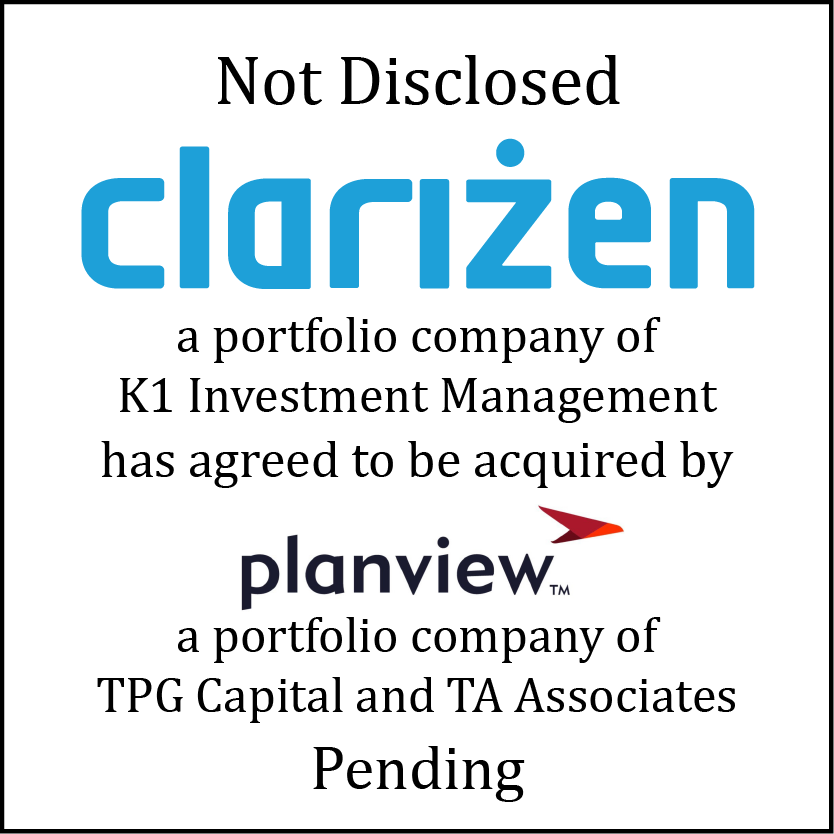 William Blair acted as the exclusive financial advisor to Clarizen, a portfolio company of K1 Investment Management (K1), in connection with its pending acquisition by Planview, a portfolio company of TPG Capital and TA Associates. The transaction was announced on January 12th and is anticipated to close within the next 30 days.
Transaction Highlights
Differentiated sector expertise: William Blair brought to bear extensive knowledge and industry experience advising market leading SaaS companies, including unparalleled insight into the project and collaborative work management market.
Highly valued relationship and guidance: William Blair has maintained a long-standing, trusted partnership with Clarizen and K1. William Blair's transaction team worked with Clarizen to provide unique market insights and develop key positioning themes and comprehensive financial analyses, which facilitated an efficient process and a tremendous outcome for shareholders.
Highly strategic transaction: The acquisition of Clarizen accelerates collaborative work management transformation as enterprises adapt to the changing world of work in today's fast-paced, highly disruptive markets.
About the Companies
Clarizen connects work across the enterprise, turning ideas into strategies, plans, and action. With Clarizen, organizations can work the way they want to work and have real time visibility into all their workstreams. This keeps teams focused on the things that matter, delivers results faster, and helps them exceed their company goals and customers' expectations. Thousands of global customers, such as Jones Lang LaSalle (JLL), Siemens, De Beers, Ricoh, Box and Shaw Industries, across a wide variety of industries in 124 countries rely on Clarizen to help them achieve their business goals.
K1 builds category-leading enterprise software companies. As a global investment firm, K1 assists high-growth businesses to achieve successful outcomes, and invests alongside strong management teams that continue to guide their organizations on a day-to-day basis. With over 100 professionals, K1 and its operating affiliate, K1 Operations LLC, change industry landscapes by assisting with operationally-focused growth strategies designed to assist portfolio companies scale efficiently. Since inception of the firm, K1 has partnered with over 135 enterprise software companies including industry leaders such as Apttus, Buildium, Checkmarx, ChiroTouch, Clarizen, ControlUp, Emburse, FMG Suite, Granicus, Graduway, IronScales, Litera Microsystems, Onit, Rave Mobile Safety, RFPIO, Smarsh, WorkForce Software, and Zapproved.
Planview has one focus: enabling the transformation journey as organizations rewire strategy to delivery in today's fast-paced, highly disruptive markets. Its solutions uniquely help organizations navigate this journey and accelerate on-strategy delivery at enterprise scale. Planview's full spectrum of Portfolio Management and Work Management solutions create organizational focus on the strategic outcomes that matter and empower teams to deliver their best work, no matter how they work. The comprehensive Planview platform and enterprise success model enables customers to deliver innovative, competitive products, services, and customer experiences. Based in Austin, Texas, Planview has more than 700 employees supporting 3,500 customers and 1 million users worldwide.
Learn more about our technology investment banking expertise.