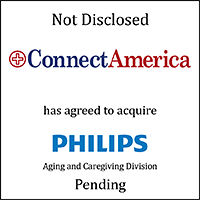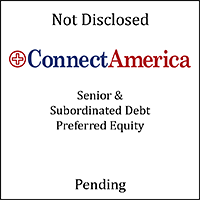 William Blair acted as exclusive financial advisor to Connect America, a portfolio company of Rockbridge Growth Equity (Rockbridge), in connection with the pending acquisition and financing of Philips Aging and Caregiving. The transaction was announced on May 5, 2021 and is expected to close in the second quarter of 2021.
Transaction Highlights
Deep sector knowledge: Connect America and Rockbridge were attracted to William Blair's deep expertise in the healthcare technology space and understanding of Connect America's strategic vision. In addition to relevant sector expertise, the William Blair team provided Connect America and Rockbridge with critical insights around valuation and process tactics.
William Blair's leveraged finance expertise: William Blair's extensive debt structuring capabilities, acquisition financing experience, broad network of alternative capital providers, and ability to manage the full financing process for a complex public company carve-out transaction were valued by Connect America and Rockbridge. Furthermore, with William Blair leading the financing process, Connect America and Rockbridge could focus on diligence while the transaction team obtained the optimal financing structure and terms.
Seamless coordination: Connect America and Rockbridge valued the breadth of advisory expertise across the healthcare and leveraged finance teams providing advice and execution throughout the complex deal lifecycle, from initial bids to signing.
Expanding relationships: William Blair assisted Rockbridge (a first-time client) with an excellent buyside and financing outcome.
About the Companies
Rockbridge Growth Equity is a private equity firm based in Detroit, Michigan, that has invested in approximately $800 million of equity since inception in 2007. Rockbridge Growth Equity currently is on their second fund with a size of $152 million. Rockbridge currently has 14 portfolio companies across a variety of industries such as healthcare, technology and media.
Connect America is a leading provider of connect health solutions dedicated to improving access to care, safety, independence, and quality of life. Its growing portfolio of medical alert systems, remote patient monitoring, and medication management solutions help bridge the gap between individuals and their health partners, providing a more connected health experience.
Philips Aging and Caregiving offers the Lifeline Personal Emergency Response System (PERS) and senior living solutions with 24/7 access to trained care specialists, and digital solutions that help caregivers stay connected and coordinate their loved one's needs. Philips Aging and Caregiving is a subsidiary of Royal Philips (NYSE:PHG).
Learn more about our healthcare investment banking expertise.