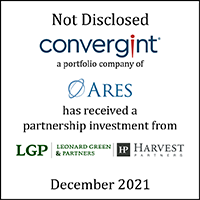 William Blair acted as lead financial advisor to Convergint Technologies (Convergint or the company), a portfolio company of Ares Management Corporation (NYSE: ARES), in connection with its equity sale from a fund managed by Ares' Private Equity Group (Ares) and other existing shareholders to Leonard Green & Partners, L.P. (LGP) and funds managed by Harvest Partners, LP (Harvest). The transaction closed on December 15, 2021, and as a result of the transaction, Ares, LGP, and Harvest will be financial partners with the company.
Transaction Highlights
Deep sector knowledge and company relationship: Convergint and Ares were attracted to William Blair's extensive industry knowledge, highly relevant experience in the facility services space, and deep understanding of Convergint's history, having advised the company on multiple transactions in the past.
Industry expertise and successful positioning: William Blair worked closely with management and Ares throughout each step of the transaction, providing tailored strategic guidance and relevant investor and market insights that culminated in a successful, expedited outcome for shareholders during busy market conditions.
Process and execution excellence: William Blair crafted a highly efficient and targeted process focused on the most aggressive financial buyers that offered the right cultural fit for both Ares and management. The combination of a well-defined, expeditious timeline, and coordinated execution effort drove a narrow and highly competitive process that resulted in an exceptional outcome.
About the Companies
Based in Illinois, Convergint is a global leader in service-based systems integration, working alongside a global network of partners and manufacturers to design, install and service security, fire alarm, life safety, audio-visual and building automation solutions for enterprise customers. Convergint maintains a global footprint with more than 7,100 colleagues in over 150 locations worldwide. Closing more than 50 acquisitions since 2001, the company has significantly deepened its vertical market expertise across numerous sectors, particularly in data centers, utilities, healthcare and financial services. At the same time, the company has expanded its global reach, allowing it to better serve multinational customer across the globe. The company is also broadening its digital transformation solution offerings, investing in innovation to meet customers' evolving needs.
Ares Management Corporation is a leading global alternative investment manager offering clients complementary primary and secondary investment solutions across the credit, private equity, real estate, and infrastructure asset classes. We seek to provide flexible capital to support businesses and create value for our stakeholders and within our communities. By collaborating across our investment groups, we aim to generate consistent and attractive investment returns throughout market cycles. As of September 30, 2021, Ares Management Corporation's global platform had approximately $282 billion of assets under management, with approximately 2,000 employees operating across North America, Europe, Asia Pacific, and the Middle East.
Leonard Green & Partners, L.P. is a leading private equity investment firm founded in 1989 and based in Los Angeles with over $50 billion of assets under management. The firm partners with experienced management teams and often with founders to invest in market-leading companies. Since inception, LGP has invested in over 100 companies in the form of traditional buyouts, going-private transactions, recapitalizations, growth equity, and selective public equity and debt positions. The firm primarily focuses on companies providing services, including consumer, healthcare, and business services, as well as retail, distribution and industrials.
Founded in 1981, Harvest Partners, LP is an established New York-based private equity investment firm that focuses on investments in middle-market companies in the business services & industrial services, consumer, healthcare, industrials and software industries. Harvest's control strategy leverages the firm's 40 years of experience in financing organic and acquisition-oriented growth.
Learn more about our supply chain, commercial services & technologies investment banking expertise.