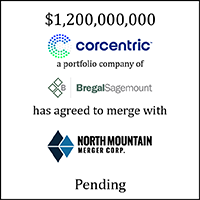 William Blair acted as financial advisor to Corcentric (the company) in its pending merger with North Mountain Merger Corp (NASDAQ: NMMC) (NMMC or North Mountain), announced on December 10, 2021, and acted as co-placement agent to North Mountain in the PIPE financing secured in connection with the pending merger. The business combination will bring Corcentric public at an enterprise valuation of approximately $1.2 billion and is expected to deliver approximately $182 million in gross proceeds, comprising NMMC's $132 million of cash held in trust and $50 million of fully committed PIPE financing. Corcentric's existing shareholders, including Bregal Sagemount, will convert their ownership stakes into equity of the combined company and are expected to own approximately 81% of the post-combination company immediately following the closing of the transaction. The transaction is expected to close in the second quarter of 2022.
Transaction Highlights
Deep sector and SPAC expertise: Corcentric and Bregal Sagemount were attracted to William Blair's extensive experience advising attractive fintech and office of the CFO assets, particularly within the B2B payments sector. Additionally, the company sought our proven experience, capabilities, and insights across all aspects of SPAC execution, including the PIPE financing process. Collectively, William Blair's sector and SPAC expertise enabled the transaction team to help guide the company to an exceptional outcome with the ideal SPAC partner and transaction structure for long-term success in the public markets.
Expert company positioning: The transaction team effectively focused SPAC buyers and PIPE investors to Corcentric's two-sided network model and its ability to combine software, payments, and advisory services to streamline the accounts payable and accounts receivable processes for both buyers and sellers.
Trusted guidance and execution excellence: William Blair's team worked closely with the Corcentric and North Mountain teams throughout the transaction process, from drafting marketing materials to providing thoughtful process tactics to helping secure fully committed PIPE financing from a key group of anchor investors.
About the Companies
Corcentric is a leading provider of payments, accounts payable, and accounts receivable technology to enterprise and middle-market companies. Corcentric delivers software, advisory services, and payments focused on reducing costs, optimizing working capital, and unlocking revenue.
North Mountain Merger Corp. is a special purpose acquisition company (or SPAC) which raised $132.25 million in its IPO in September 2020 and is listed on the Nasdaq Capital Market. North Mountain Merger Corp. was founded to pursue an initial business combination, with a specific focus on businesses in the financial technology segment of the broader financial services industry.
Bregal Sagemount is a growth-focused private capital firm with $4 billion in committed capital. The firm provides flexible capital and strategic assistance to market-leading companies in high-growth sectors across a wide variety of transaction situations. Bregal Sagemount invests $15 million to $400 million per transaction into targeted sectors, including software, digital infrastructure, healthcare IT/services, business and consumer services, and financial technology/specialty finance.
Learn more about our technology investment banking expertise.