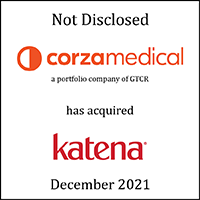 William Blair acted as exclusive financial advisor to Corza Medical, a GTCR portfolio company, in connection with their acquisition of Katena Products. The transaction was signed on October 29, 2021 and closed on December 2, 2021.
Transaction Highlights
Deep sector experience and key target knowledge: Corza and GTCR were attracted to William Blair's transaction experience advising medical technology companies, unmatched process expertise, and prior sell-side advisory for the target company.
Trusted guidance: Corza and GTCR valued their longstanding relationship with William Blair and its track record in medical devices. In particular, the William Blair team provided value to Corza and GTCR throughout the process with extensive financial analyses, sector trends, and end-market insights.
Process insights: William Blair's team worked closely with the Corza and GTCR teams to provide thoughtful strategic guidance and relevant process insights.
About the Companies
Formed in 2019 as a partnership between Gregory T. Lucier and GTCR, Corza Health, Inc. is a holding company focused on acquiring companies and assets as part of a strategy to build a market-leading healthcare business with a particular focus on the broader life sciences and medical technology sector. Corza Medical was established as part of the Corza Health management partnership through a transformational merger of two surgical device companies, creating a leading provider of surgical medical technology.
Founded in 1980, GTCR is a leading private equity firm focused on investing in growth companies in the financial services & technology, growth business services, healthcare, and technology, media & telecommunications industries. The Chicago-based firm pioneered The Leaders Strategy™ – finding and partnering with management leaders in core domains to identify, acquire and build market-leading companies through transformational acquisitions and organic growth. Since its inception, GTCR has invested more than $20 billion in over 250 companies.
Katena Products, Inc., based in Parsippany, New Jersey, is an innovation-driven, medical technology company serving the eye care community. Founded in 1975 as a premier provider of ophthalmic instruments for surgical and in-office applications, Katena has maintained its quality standards while expanding its product portfolio to include biologics, diagnostic lenses, punctum plugs, and devices across cataract, glaucoma, and corneal surgery.
Learn more about our medical technology investment banking expertise.