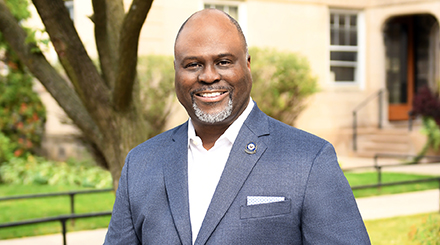 William Blair's Tye Clark was named to Crain's Notable Veteran Executives list for 2020, an honor roll of Chicago executives recognized for their business leadership and for advancing issues that affect military veterans within the workplace.
Clark, a retired naval officer, serves as director of business continuity management at William Blair. He oversees the firm's planning policies, standards and best practices aimed at maintaining operations in the event of a disruption in systems or business environment. Over the past nine months, Clark has led William Blair's continuity initiatives to cope with the COVID-19 crisis.
"The award recognizes Tye's incredible ability to lead teams and make an impact in business and in the community where he lives and works," said John Moore, head of William Blair's Institutional Equity Department, who serves as the executive sponsor of the firm's Veterans' Alliance group. "Tye has been an advocate for fellow military veterans throughout his career, inspiring us all by his service and commitment to others."
Clark also co-chairs the Veterans' Alliance, a business resource group dedicated to networking of military veterans and raising awareness of issues veterans face in civilian work. In that role, Clark led a William Blair initiative in 2019 backing a federal program called Employer Support of the Guard and Reserve, which fosters a culture among employers to support and value colleagues who serve in the National Guard and Reserves.
Clark retired from the military service in 2015 after more than 30 years in active and reserve duty with the Navy. He was deployed three times overseas in the Pacific and the Mediterranean, with his last assignment focused on cryptology and information warfare. His career includes more than 15 years of business experience in information technology, working for a variety of high-tech industries while serving in the Navy Reserve. Before joining William Blair in 2018, Clark was global director of business continuity management for CNA Insurance.
Clark is active in community programs. He has served on the board of the Lifeline Theatre Company, known for its children's programs. Additionally, he is a mentor to students interested in STEM and works with students attending his alma mater, the Chicago Vocational High School. He was inducted into its Hall of Fame in 2016.