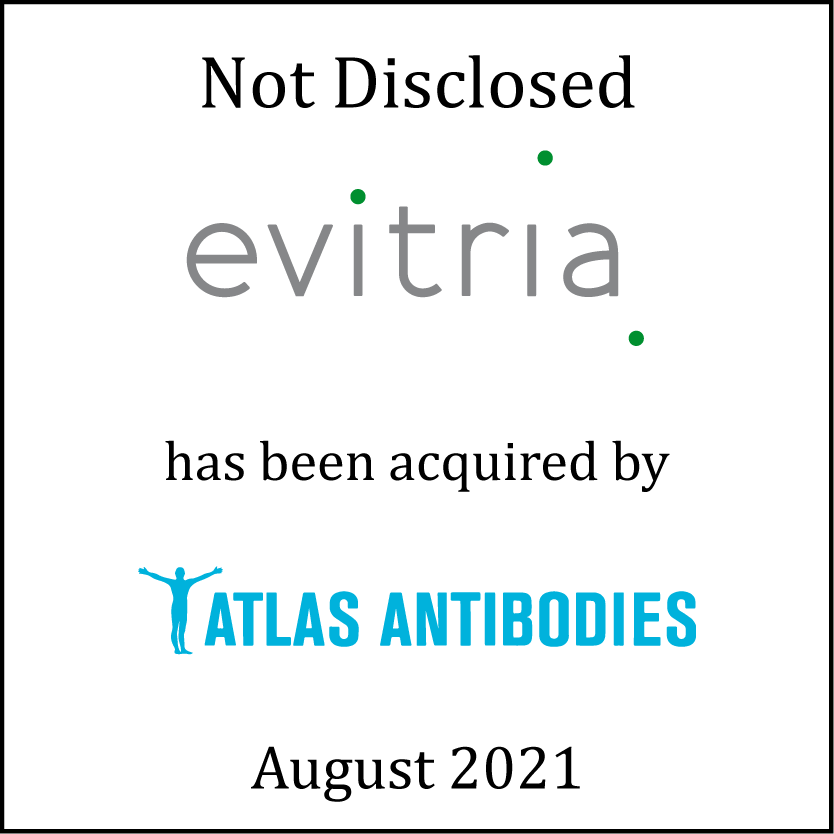 William Blair acted as the exclusive financial advisor to evitria, a portfolio company of Afinum Management and SHS Capital, in connection with its sale to Atlas Antibodies, a portfolio company of Patricia Industries. The transaction was signed on 23rd July, 2021, and is expected to close in Q3 2021.
Transaction Highlights
Process management and significant outlier valuation: evitria was sold at a premium valuation significantly above indicative offers received in May 2021. After the receipt of highly attractive IOIs, selected bidders were invited to submit reconfirmed offers in mid-June. The highly competitive bidder environment further drove the valuation and ultimately resulted in the premium price paid for evitria well in excess of shareholder expectations.
Highly strategic transaction: The acquisition of evitria provides Atlas Antibodies with highly sophisticated and proprietary transient antibody expression capabilities. It also offers the opportunity to build a fully integrated recombinant antibodies service platform and allows for the cross-selling of customized versions of Atlas Antibodies' current portfolio to evitria's customers.
Pharma services expertise: Afinum and SHS were attracted to William Blair's extensive experience and operational knowledge in the outsourced pharmaceutical services space. This represents William Blair's 25th transaction in the space since 2020 and 13th in 2021. Leveraging key insights and learnings from previous processes including strong relationships with the most likely buyers, the deal team effectively articulated evitria's successful high-growth story.
Trusted guidance: William Blair's transaction team was integrally involved throughout each step of the transaction process, including close collaboration with management and the client in preparing the company for the sales process, developing marketing materials, completing due diligence on an accelerated timeline and negotiating key contract terms.
About the Companies
evitria is the leading provider of customized transient CHO cell antibody expression services. The company accelerates early-stage development of therapeutic and diagnostic antibodies by providing its clients access to its fully in-house, proprietary, high performance biological transient expression technology. It is rated best-in-class by customers based on its market leading offering with respect to speed, quality and reliability. evitria is based in Switzerland with a growing business development presence in Europe and the U.S. The company was acquired by Afinum and minority stakeholder SHS in 2018.
Afinum Management is an independent financial investor wholly owned by its management with offices in Munich, Zurich and Hong Kong, specializing in the acquisition of shareholdings in financially sound and successful mid-market companies. The company has been active over 20 years and is one of the leading mid-cap private equity funds in the DACH region. Afinum currently manages approximately €1.1bn of equity capital.
SHS Capital invests in medical technology and life science companies focusing on expansion financing, changes in shareholder structures and successor situations since its foundation in 1993. The firm takes both minority and majority stakes and supports the growth of its portfolio companies through a network of partnerships regarding the introduction of new products, regulatory issues or entering new markets. SHS is currently investing from its fifth fund, which was launched in 2018 and has a size of over €130m.
Atlas Antibodies is a provider of antibodies, antigens and mass spectrometry protein quantification standards to a global life sciences customer base. The company has its roots in the Human Protein Atlas project, a scientific initiative founded by researchers at the Royal Institute of Technology and Uppsala University in 2006. Atlas Antibodies is majority owned by Patricia Industries.
Patricia Industries is part of the industrial holding company Investor AB managing their private portfolio with ~$19bn of AUM and offices in Stockholm, New York and Paolo Alto and over 25 professionals globally. The firm is a long-term investor focused amongst others on the healthcare and business services industries.