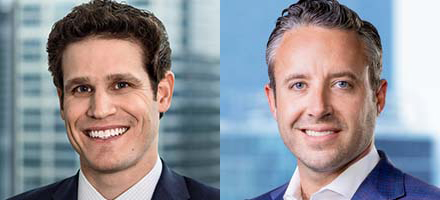 William Blair advisors David Dreifuss and Andrew Feichter were named top next-gen wealth advisors by Forbes magazine in September.
This is the second year in a row Dreifuss and Feichter made the list.
The magazine ranks the nation's rising advisors based on several factors including industry experience, compliance records, and assets under management.
"Congratulations to David and Andrew on being recognized as top next-gen wealth advisors," said Ryan DeVore, William Blair's global head of private wealth management. "It is a thrill to work with these accomplished next-gen advisors who are carrying on the William Blair legacy of providing expert financial advice and services to our high-net-worth clients."
Dreifuss, Feichter, and their team members serve individuals, families, organizations, and foundations to help them achieve their investment goals, strengthen family legacies, and endow their clients' charitable activities. Both are partners of the firm and have worked at William Blair for more than 10 years.