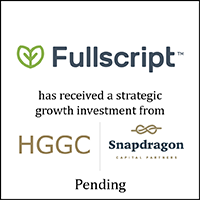 William Blair acted as exclusive financial advisor to Natural Partners, Inc. (d/b/a Fullscript) in connection with a pending $240 million strategic growth investment led by HGGC, LLC (HGGC) and Snapdragon Capital Partners LLC (Snapdragon). The transaction was announced on November 10, 2021 and is expected to close in the fourth quarter of 2021.
Transaction Highlights
Unmatched sector expertise drove differentiated positioning: Fullscript recognized William Blair's extensive knowledge and experience advising leading businesses at the convergence of the consumer, technology, and healthcare sectors. The transaction team effectively focused investors on the distinctive and highly impressive technology platform as well as the attractiveness of the recurring revenue business model and the innumerable levers for continued growth.
Highly successful pre-emptive outcome: The transaction team guided management through a bespoke and effective marketing process, resulting in an actionable, pre-emptive proposal prior to the final bid date, ensuring an exceptional outcome for shareholders.
Significant partnership opportunity:

The investment marks a critical step in Fullscript's evolution as the leading online integrative health platform. The partnership with HGGC and Snapdragon is expected to accelerate Fullscript's growth and drive market expansion.
About the Companies
Fullscript is the leader in the integrative medicine market, offering practitioners and patients access to over 20,000 products in the vitamins, minerals, and supplements (VMS) space as well as access to thousands of helpful content pieces, all from its simple to use technology platform. By providing a best-in-class dispensing experience, Fullscript enables practitioners to focus on delivering effective treatment and makes patient adherence simple. The business has over 500 employees today across Canada and the United States.
HGGC is a leading middle-market private equity firm with over $5.6 billion in cumulative capital commitments. Based in Palo Alto, California, HGGC is distinguished by its Advantaged Investing approach that enables the firm to source and acquire scalable businesses through partnerships with management teams, founders and sponsors who reinvest alongside HGGC, creating a strong alignment of interests. Since its inception in 2007, HGGC has completed more than 300 platform investments, add-on acquisitions, recapitalizations, and liquidity events with an aggregate transaction value of over $41 billion.
Snapdragon is a growth equity and buyout investment firm targeting consumer companies sitting at the intersection of high growth categories and digital enablement opportunities. Health and wellness companies have been a core focus, as represented by Xponential Fitness, the largest franchisor of boutique fitness studios globally, and Better Being Co., a whole-body wellness platform.
Learn more about our consumer & retail, technology, and healthcare services investment banking expertise.