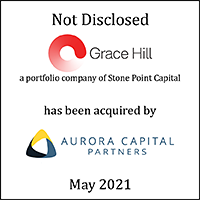 William Blair acted as exclusive financial advisor to Grace Hill, Inc., a portfolio company of Stone Point Capital, in connection with its sale to Aurora Capital Partners.
Transaction Highlights
Unparalleled industry insights and buyer relationships: The transaction team's unrivaled domain expertise within real estate and HCM software enabled William Blair to articulate a powerful growth story, create a unique M&A process strategy, and offer a deep understanding of buyers' priorities. The pending sale of Grace Hill represents the fourth real-estate software platform transaction William Blair has advised on in the last six months, totaling over $3 billon of aggregate transaction value.
Trust-based relationship and guidance: William Blair successfully advised Grace Hill and Stone Point Capital through each step of the process and closely collaborated on developing marketing materials, coordinating due diligence, and navigating accelerated process dynamics. William Blair has also developed a strong and trusted partnership with Stone Point Capital.
Process and execution excellence: The transaction team ensured thorough and robust preparation at the onset to maximize process agility and enable a high-touch, competitive process. William Blair successfully positioned Grace Hill as the leader in training and compliance software solutions to maximize real estate property performance. The team's tactics ensured a strong competitive dynamic throughout the process, delivering an exceptional result for Grace Hill and Stone Point Capital.
About the Companies
Grace Hill provides technology-enabled talent performance solutions that help owners and operators of real estate properties increase property performance, reduce operating risk, and grow top talent. Its industry-leading solutions covering policy, training, assessment, and data-driven insights are bolstered by years of real estate experience, in-depth service-level expertise, and outstanding customer support. Today, more than 500,000 real estate professionals from more than 1,700 companies rely on talent performance solutions from Grace Hill.
Stone Point Capital is a financial services-focused private equity firm based in Greenwich, Connecticut. The firm has raised and managed eight private equity funds – the Trident Funds – with aggregate committed capital of more than $25 billion. Stone Point targets investments in companies in the global financial services industry and related sectors.
Aurora Capital Partners is a leading private equity firm focused principally on control investments in middle-market companies with leading market positions, stable industry dynamics, attractive business model characteristics, and actionable opportunities for growth in partnership with management. Aurora provides unique resources to its portfolio companies through its Strategy & Operations Program and its team of experienced operating advisors. Aurora's investors include leading public and corporate pension funds, endowments, and foundations active in private equity investing.
Learn more about our technology investment banking expertise.