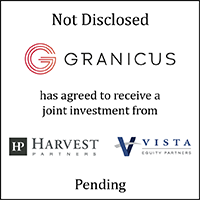 William Blair acted as exclusive financial advisor to Granicus, Inc. (Granicus), a portfolio company of Vista Equity Partners, in connection with its pending investment from Harvest Partners and Vista Equity Partners. The transaction was announced on December 17, 2020, and is expected to close in the first quarter of 2021.
Transaction Highlights
Government technology expertise: Granicus and Vista Equity Partners recognized William Blair's extensive domain expertise, buyer relationships, and track record of advising industry-leading government technology companies.
Highly valued relationship and guidance: William Blair has maintained a long-standing, trusted partnership with Granicus and Vista Equity Partners. William Blair's transaction team worked with Granicus to provide unique market insights, developing key positioning themes and comprehensive financial analyses, which facilitated an efficient process amidst constantly-evolving process dynamics.
Leading M&A process capabilities: William Blair designed and managed a high-touch and competitive process by taking multiple buyer types (strategic, financial, SPAC) through diligence, culminating in an outstanding outcome for all shareholders.
About the Companies
Granicus connects governments with the people they serve by providing the first and only civic engagement platform for the public sector. Nearly 4,500 federal, state, and local government agencies and more than 250 million citizen subscribers power an unmatched Subscriber Network that turns government missions into quantifiable results. With comprehensive cloud-based solutions for communications, government website design, online service delivery, meeting and agenda management software, and records management, Granicus empowers stronger relationships between government and citizens.
Founded in 1981, Harvest Partners is a leading New York-based private equity investment firm that pursues management buyouts and recapitalizations of middle market companies in North America. Harvest focuses on acquiring profitable companies in the business services, consumer, healthcare services, and industrial sectors. This strategy leverages Harvest Partners' 35 plus years of experience in financing organic and acquisition-oriented growth companies.
Vista is a leading global investment firm with more than $73 billion in assets under management as of September 30, 2020. The firm exclusively invests in enterprise software, data and technology-enabled organizations across private equity, permanent capital, credit and public equity strategies, bringing an approach that prioritizes creating enduring market value for the benefit of its global ecosystem of investors, companies, customers and employees. Vista's investments are anchored by a sizable long-term capital base, experience in structuring technology-oriented transactions and proven, flexible management techniques that drive sustainable growth. Vista believes the transformative power of technology is the key to an even better future – a healthier planet, a smarter economy, a diverse and inclusive community and a broader path to prosperity.
Learn more about our technology investment banking expertise.