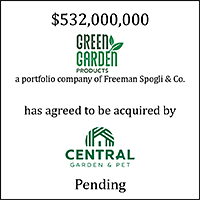 William Blair served as financial advisor to Green Garden Products, a portfolio company of Freeman Spogli & Co., in connection with its pending sale to Central Garden & Pet (NASDAQ: CENT, CENTA). Green Garden Products is the leading independent home gardening platform with a diverse portfolio of branded, consumable gardening products positioned for meaningful growth. The transaction was signed on December 30, 2020 and is expected to close in the first calendar quarter of 2021.
Transaction Highlights
Deep sector expertise and relationships: Green Garden Products and Freeman Spogli & Co. were attracted to William Blair's extensive experience advising leading consumer products companies and deep relationships with the most likely strategic and financial buyers globally.
Optimal positioning: William Blair successfully articulated Green Garden Products' position as the leading player in the most attractive segments of home gardening, including the #1 market position in seed packets and seed starters, and established positions in growing medium, plant nutrients and hydroponics. The transaction team also positioned how well-aligned the company is with powerful macro trends including increased homesteading, suburbanization, and food safety.
Trusted guidance: William Blair was integrally involved throughout each step of the transaction process, collaborating closely with management in developing introductory marketing materials, educating prospective buyers on the home gardening industry and participation trends as well as advising on key process strategy and tactics.
Execution and process excellence: William Blair designed and managed a high-touch process to effectively drive strong interest from financial sponsors as well as engage the most likely strategic buyers, resulting in a highly competitive process.
About the Companies
Green Garden Products, based in Norton, Massachusetts, is the leading supplier of seed packets and seed starter products for flower and vegetable gardens in North America, as well an emerging participant in the specialty soil category. The company distributes over 3,500 SKUs under the Ferry-Morse, American Seed, Livingston Seed, McKenzie, NK Lawn & Garden, Jiffy, SUPERthrive, Dyna-Gro, and Seeds of Change brand names to a network of over 70,000 retail locations across the home center, mass merchant, farm and independent, dollar store, and distributor/co-op channels. The company provides its retail customers with best-in-class category management services including SKU selection, packaging and displays, in-store merchandising services, and logistical solutions. In addition to its base in Massachusetts, the company maintains production and distribution facilities in Ohio, California, and Manitoba.
Freeman Spogli & Co., based in Los Angeles, California, is a private equity firm dedicated exclusively to investing in and partnering with management in consumer and distribution companies in the United States. Since its founding in 1983, Freeman Spogli has invested over $5 billion in 65 portfolio companies with an aggregate transaction value of over $25 billion, and is currently making investments from FS Equity Partners VIII, L.P.
Central Garden & Pet Company, based in Walnut Creek, California, understands that home is central to life and has proudly nurtured happy and healthy homes for over 40 years. With 2020 net sales of $2.7 billion, Central is on a mission to lead the future of the pet and garden industries. The company's innovative and trusted products are dedicated to help lawns grow greener, gardens bloom bigger, pets live healthier and communities grow stronger. Central is home to a leading portfolio of more than 65 high-quality brands including Pennington, Nylabone, Kaytee, Amdro, and Aqueon, strong manufacturing and distribution capabilities and a passionate, entrepreneurial growth culture. Central Garden & Pet has over 6,300 employees across North America and Europe.
Learn more about our consumer & retail investment banking expertise.