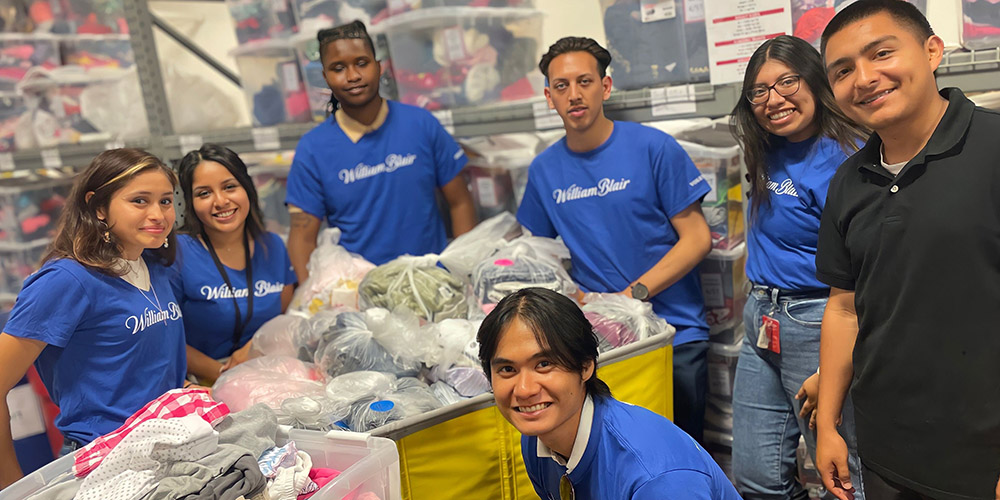 Ten college students with the Greenwood Project financial mentoring program completed their summer internships in August with William Blair, building their financial and business skills during the two-month program.
"This year's cohort of Greenwood interns were an amazing group of aspiring financial services leaders and they will no doubt represent the best and the brightest financial advisors, portfolio managers, equity analysts, technology developers, communications specialists, and more," said Teresa Devereux, a managing director with William Blair Private Wealth Management Administration, who has worked with Greenwood interns since 2020.
"The Greenwood Project has been a tremendous community partner over the years, offering William Blair and the financial industry an opportunity to engage with students and increase diversity throughout the financial sector," she added.
Greenwood Project is a Chicago nonprofit founded in 2016 by Bevon and Elois Joseph. The husband-and-wife team, who have worked in the financial services industry, recognized the need for skill building and networking for Black and Latinx students who were unaware of the career opportunities in the finance sector. Under their leadership and financial partners, the program has grown to serve hundreds of scholars, many from the south and west sides of Chicago.
Its name honors the prosperous Greenwood community of Tulsa, Oklahoma, known as "Black Wall Street," which was destroyed during the Tulsa Race Massacre over two days in the summer of 1921.
William Blair began working with Greenwood in 2019 when it was selected as a Global Community Partner and received a multiyear grant to scale its programs.
"There is no doubt that the support of William Blair and its employees has played a crucial role in helping Greenwood Project achieve its mission and vision," said Bevon Joseph. "Several of our scholars have interned at William Blair, and some have even been offered full-time positions. It is a pleasure to have a partner who fully supports our model and understands the importance of focusing on the students."
This year's interns were among the 96 Greenwood Scholars recruited from across the country who worked remotely and in person for leading financial firms in Denver, New York, Wisconsin, and Chicago.
At William Blair, students gained experience in data analysis, career networking, ESG assessments, communication strategies, company research, and office workings. They also took on a community engagement project, assembling backpacks for kids supported by nonprofit Cradles for Crayons.
Among their most rewarding experiences was the opportunity to connect with financial professionals on a daily basis, volunteering for a nonprofit dedicated to helping low-income families, increasing their financial literacy and investment knowledge, and connecting with other interns who have similar dreams of having careers in the financial services industry.
"For me, Greenwood represents an initiative that is bringing change to the finance industry, but also an organization that opens doors for students to pursue careers they didn't think were possible at first," said Bryam Alvarez, a senior at the University of Illinois majoring in economics who interned with William Blair's wealth management group this summer.