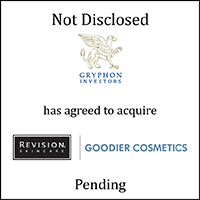 William Blair acted as exclusive financial advisor to Gryphon Investors (Gryphon) in connection with its pending acquisition of Revision Goodier, a clinically proven, highly efficacious skincare brand, and trusted development and manufacturing partner specializing in high-end cosmetic and topical skincare solutions. The transaction is expected to close in the fourth quarter of 2021.
Transaction Highlights
Deep sector knowledge: Gryphon recognized William Blair's industry leading transaction experience and thought leadership, and was attracted to its deep expertise advising beauty and personal care companies with similar end-markets as well as value-added development and manufacturing partners.
Trusted guidance: Gryphon valued its longstanding relationship with William Blair and its track record in beauty and personal care and with development and manufacturing partners. In particular, the team provided value to Gryphon throughout the process on sector valuations and trends, as well as end-market insights and operational benchmarking.
Process insights: William Blair's team worked closely with the Gryphon team to provide thoughtful strategic guidance and relevant process insights.
About the Companies
Gryphon Investors is a leading private equity firm focused on profitably growing and competitively enhancing middle-market companies in partnership with experienced management. The firm has managed over $7.5 billion of equity investments and capital since 1997. Gryphon prioritizes investment opportunities where it can form strong partnerships with owners and executives to build leading companies, utilizing Gryphon's capital, specialized professional resources, and operational expertise.
Revision Skincare is known for its ground-breaking, effective, and scientifically proven formulations, changing the way clinical skincare results are achieved. Revision offers products that are enabling patients and consumers to achieve beautiful skin without ever compromising the skin's long-term health. The portfolio includes well-known franchises such as Nectifirm™, Intellishade™, DEJ™, and Revox™.
Goodier Cosmetics is a leading skincare CDMO with a long history of creating quality products with significant commercial success. Goodier is known for developing innovative formulations that utilize the latest ingredients and technologies, and for bringing products from concept to a saleable finished good. Customers, including high-growth emerging brands and established market-leading brands, turn to Goodier for its flexible customer-centric service and full turn-key experience.
Learn more about our consumer and retail investment banking expertise.