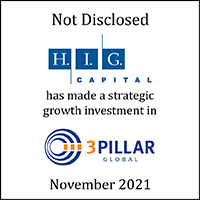 William Blair acted as the exclusive financial advisor to H.I.G. Capital in connection with its strategic growth investment in 3Pillar Global, a leader in the digital transformation sector. The transaction closed on November 23, 2021.
Transaction Highlights
Breadth and depth of industry expertise: H.I.G. Capital recognized William Blair's extensive domain expertise, market relationships, and track record of advising industry-leading IT Services and digital transformation companies.
Instrumental guidance and competitive insights: The William Blair team was integrally involved in advising H.I.G. through the process providing strategic advice around the industry landscape, competition, valuation, M&A opportunities and exit options.
Long-standing relationship and guidance: William Blair has maintained a long-term trusted relationship with H.I.G. Capital; H.I.G. particularly valued the team's knowledge of the target from a prior relationship.
About the Companies
3Pillar Global is a global leader in the digital transformation sector and builds breakthrough software products to power digital businesses. Digital solutions help drive rapid revenue, market share and customer growth for industry leaders like CARFAX, Fortune, and PBS. 3Pillar provides specialized product strategy and management, user experience design, as well as software and data engineering expertise across mobile, cloud and disruptive technologies. The Company was founded in 2006 and is based in Fairfax, Virginia.
H.I.G. Capital is a leading global private equity investment firm with over $45 billion of equity capital under management. The H.I.G. family of funds includes private equity, growth equity, real estate, debt/credit, lending, and biohealth. The firm aligns itself with committed management teams and entrepreneurs and help build businesses of significant value. The firm has over 350 investment professionals with substantial operating, consulting, technology and financial management experience, enabling meaningfully contributions to their portfolio companies. The firm was founded in 1993 and is based in Miami, Florida.
Learn more about our technology investment banking expertise.