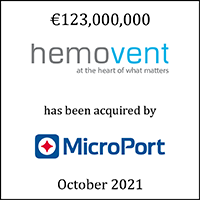 William Blair and BDA Partners acted as financial advisor to Hemovent, a company backed by a consortium of institutional investors led by MIG Capital in connection with its sale to MicroPort (SEHK Ticker: 0853) for €123m in total consideration (including future milestone payments). The transaction was signed on Aug 6, 2021, with all necessary regulatory approvals granted on Sep 28, 2021, and closed on Oct 13, 2021.
Transaction Highlights
Medical technology sector expertise: Hemovent and MIG Capital were attracted to William Blair's deep expertise in medical technology, with 27 transactions announced or completed this calendar year. In addition, William Blair was able to bring their expertise in selling pre-revenue medical technology businesses.
Trusted guidance and longstanding relationship: William Blair's team began working with Hemovent and MIG Capital in 2019 providing both sell-side M&A specific advice, but also broader strategic advice over multiple years culminating in a successful transaction.
Execution excellence and premium valuation: The deal team designed a bespoke strategic buyer only process, adapting the various process workstreams to successfully navigate company product development milestones and funding rounds, as well as managing phased strategic buyer engagement. The William Blair team were intrinsic in negotiating a complex milestone structure that met both Hemovent and MIG Capital's objectives.
Strengthening client relationship: The transaction represents William Blair's first mandate with MIG Capital, Hemovent's largest shareholder and a leading German venture capital firm.
About the Companies
Hemovent, established in 2013, in Aachen, Germany, is a pre-revenue medical device company specializing in the development of ground-breaking Extracorporeal Life Support (ECLS) systems, a technology often referred to as Extracorporeal Membrane Oxygenation. Hemovent's flagship product, the MOBYBOX® system has already obtained its CE Mark and is commercially available in Europe. The MOBYBOX® system is the first fully integrated portable ECLS system to manage both perfusion and gas exchange in a single device.
MicroPort is a leading medical devices company based in China focused on designing products for a range of medical fields including cardiology, interventional radiology, orthopedics, electrophysiology, and surgical management. MicroPort has established its foothold in the critical care sector with its subsidiary MicroPort Surgery, which is committed to providing patients with comprehensive medical solutions for cardiac surgery, emergency and critical care. MicroPort is listed on the Hong Kong Stock Exchange with a market capitalization in excess of €8.5bn.
MIG Capital was founded as the management company of MIG Funds in 2004. The investment funds managed by MIG Capital invest in start-up businesses in important high-tech sectors of various industries such as biotechnology, medical devices, material and clean technology, information technology and automation engineering. MIG Capital currently manages an investment portfolio comprised of holdings in 30 companies. To date MIG Capital has raised ~€850m in capital across their investment funds.
Learn more about our medical technology investment banking expertise.