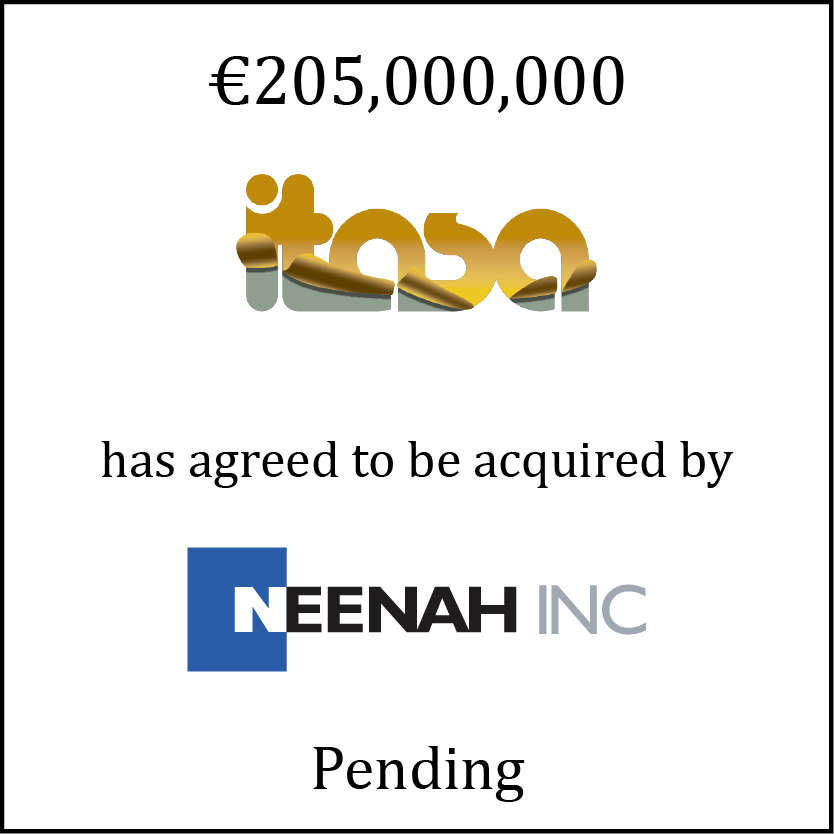 William Blair acted as the exclusive financial advisor to Global Release Liners, S.L., the parent company of Industrias de Transformacion de Andoain, S.A. (ITASA), a portfolio company of the Iberian private equity investor Magnum Capital Industrial Partners (Magnum), in connection with its pending sale to Neenah, Inc. (NYSE:NP). The transaction was signed on March 01, 2021, and is expected to close in April 2021.
Transaction Highlights
Deep relationships and sector expertise: ITASA and Magnum were attracted to William Blair's extensive knowledge and industry experience in the Specialty Materials and Packaging markets. Frequent interactions and market insights ahead of the sales process with regards to the most relevant strategic buyers made William Blair the ideal partner for ITASA. The transaction marks William Blair's 26th Specialty Materials and Packaging deal in the past 24 months.
Process and execution excellence: William Blair worked closely with management and Magnum to create a compelling investment thesis that emphasized the Company's strong growth prospects and platform value, leading to a pre-emptive offer shortly after early look meetings with selected international strategic buyers ahead of process launch. Blair managed a sensitive, complex and mostly virtual strategic due diligence process, while maintaining the highest degree of confidentiality to enable a very successful outcome.
Highly strategic transaction: The transaction will enable Neenah to build upon its core capabilities in its targeted growth platforms and unlock significant synergies. The release liner market is a large, growing, attractive market, and ITASA gives Neenah a strong foundation to build upon while enhancing its portfolio diversity and financial returns.
About the Companies
ITASA is a leading coater and converter of release liners providing products used in fast-growing and technically demanding hygiene, labels, tapes, medical, composites and various industrial end-markets. The Company serves a global customer base from its production facilities in Spain, Mexico and Malaysia.
Magnum is one of the largest Iberian private equity firms. The firm invests in mid-to-upper middle market Iberian companies, with the objective of creating value by building stronger, better companies. Magnum seeks to leverage the team's over 100 years of collective experience as senior operators, industrial portfolio managers, professional advisors and private equity investors, to generate superior returns for its investors as well as for the portfolio companies and their employees.
Neenah, Inc. is a US publicly listed leading global manufacturer of specialty materials serving customers across six continents, based in Alpharetta, GA. With manufacturing facilities in the United States, Europe, and the United Kingdom, Neenah makes filtration media, specialty coatings, custom-engineered solutions, as well as premium packaging and sustainable solutions, and its materials are found in a variety of products used every day, such as transportation and water filters, premium packaging of spirits, technology and beauty, industrial labels, tapes and abrasives, and digital printing for high-end apparel.