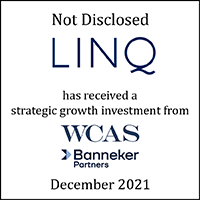 William Blair acted as the exclusive financial advisor to LINQ, a portfolio company of Banneker Partners (Banneker), in connection with its strategic growth investment from Welsh, Carson, Anderson & Stowe (WCAS). WCAS joins existing backer Banneker to accelerate the company's growth and further enhance LINQ's mission of Making Schools Stronger. The transaction closed on December 22, 2021.
About the Companies
LINQ is the invisible engine that powers stronger schools. For over 25 years, LINQ's mission has been to empower the everyday heroes who make K-12 districts and schools stronger. Combining best-in-class technology with industry-leading expertise, LINQ helps school administrators rise to the challenges of today, while building the foundation for a better tomorrow. Improving efficiency, optimizing performance, and managing compliance through LINQ's suite of administrative, financial, and nutritional solutions to help make a bigger impact for staffs, students and communities.
Banneker invests in growing enterprise software businesses to drive sustainable long-term value. Banneker takes a partnership approach to support founders and management teams to achieve their goals by implementing proven best practices and making additional investments across functional areas, including sales, marketing, product management, product development, professional services, and customer success, and Banneker complements these growth initiatives with strategic acquisitions that are focused on enhancing customer value.
WCAS is a leading U.S. private equity firm focused on two target industries: technology and healthcare. Since its founding in 1979, the firm's strategy has been to partner with outstanding management teams and build value for its investors through a combination of operational improvements, growth initiatives and strategic acquisitions. The firm has raised and managed funds totaling over $27 billion of committed capital.
Learn more about our technology and financial sponsors investment banking expertise.